The seventh North American architecture and design map from Blue Crow Media takes us to the West Coast city of Los Angeles—celebrating the famously sprawling metropolis as a city of distinctive concrete architecture and, in a departure from previous guides, one certainly to be explored by road.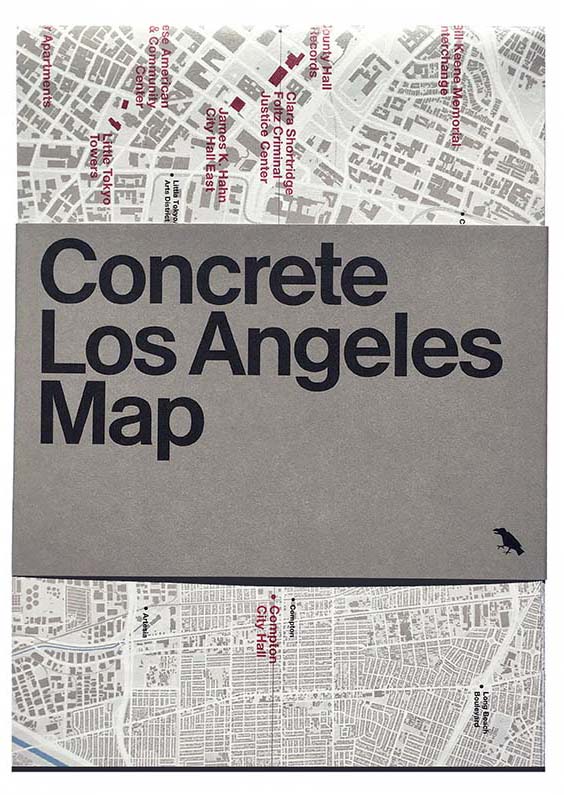 Concrete Los Angeles Map, compiled by architecture critic Deane Madsen, gives an insight into modernist, brutalist and contemporary architecture in the city, suggesting over 50 constructions by architects such as Frank LLoyd Wright, Diller Scofidio + Renfro, Edward Durell, and John Lautner.
From Sherman Oaks to Glendale, down towards Compton and the central Wilshire Boulevard, the familiar format of the two-sided guide and map covers what critic Reyner Banham once called a "uniquely mobile metropolis". Driven by a history of aerospace innovation, technological experimentation, and fuelled by ready access to concrete, L.A. architects were blessed with the inspiration and ability to dabble in a range of styles.
As is always the case with Blue Crow's excellent architecture guides, Concrete Los Angeles takes its readers on a tour that spans veritable icons to unsung heroes of unfamiliar architectural styles—from Wright's concrete block mansions to the streamline modern slender of The Broad, enjoy a diverse saunter through a city of disparate influences and diverse neighbourhoods.
Available now from Blue Crow Media's online store, be prepared to grapple with the city's famed congestion as you whisk from historic landmarks to modern-day future classics.