Located within Hotel Cervo on Sardinia's Costa Smeralda, Quattropasi al Pescatore—a redesign of Il Pescatore—is a firm favourite among locals and travellers who flock to the renowned restaurant for fresh seafood and Mediterranean flair.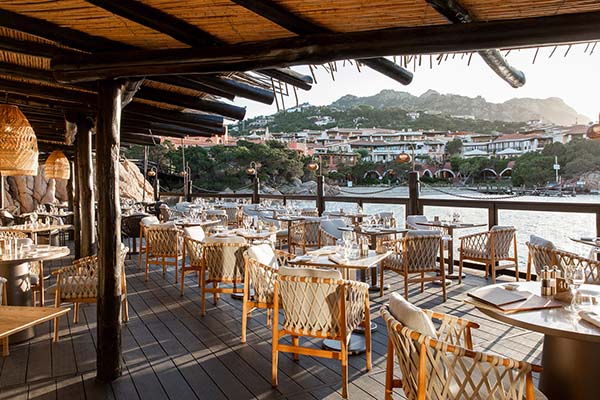 Designed by Jacques Couëlle in the 1960s and built by Prince Aga Khan, the hotel features a distinctive organic architectural style and a deep connection to nature (the French architect's work would define the movement known as architecture-sculpture), something that London-based multidisciplinary design studio Blacksheep adhered to throughout their recent redesign of the prepossessing space.
The design for the restaurant—the first of five spaces to be redesigned by Blacksheep—blends contemporary luxury with a timeless aesthetic, achieved through the use of a natural colour palette, exposed concrete, terracotta tiles, understated modern timber furniture, and woven pendant lighting. Creating a new bar, fish counter, and a host desk, the restaurant retains that old authentic experience from aperitif to dinner and through the evening, the dining room transitioning to dance floor seamlessly for night owls to strut their stuff.
Outside, the terrace affords views out towards the Tyrrhenian Sea, local Sardinian herbs smell divine, and timber furniture lends an unfinished edge that harks back to Couëlle's soothing approach to architecture. Understated style and inimitable Mediterranean, the revived space encourages diners to relax, reconnect with nature, and enjoy the fruits of the sea on balmy Sardinian nights.
@blacksheep_uk
@cervohotelcostasmeralda