Chotto Matte is drenched in the drama of Miami Beach from the moment you meet a mammoth pivoting door that punctuates a stark white façade. It only gets more impressive. A retractable ceiling sees Herzog & de Meuron's iconic 1111 Lincoln Rd car park looming above as the indoor palm trees extend to the heavens. Lively murals from local street artists bring the edge of Wynwood to South Beach.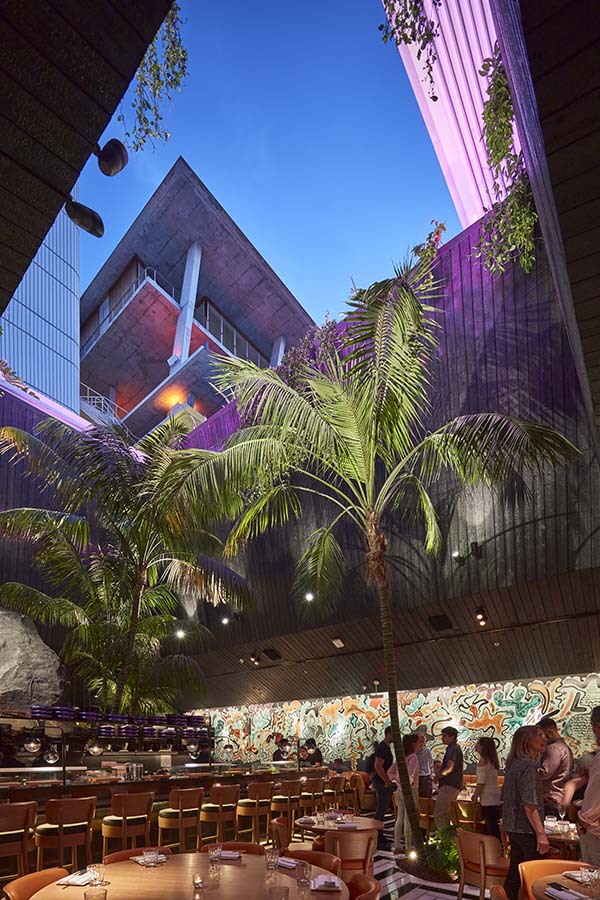 Blending authentic Nikkei cuisine with this dramatic contemporary urban environment, Chotto Matte Miami is a Lincoln Road destination restaurant you won't want to miss. Putting only the freshest ingredients to work, the food is rich in bold aromas and mouth watering taste sensations. Japanese-Peruvian cuisine best enjoyed as small sharing plates, your waiter organises the ceremony adhering to the philosophy of beginning with cold, light flavoured dishes, before moving gradually onto hotter, more robust tastes. Each stage matches the drama of your surrounds.
The magic happens at the restaurant's four cooking stations: the Robata, sushi bar, sautée, and tempura. Flanked by palm trees and those vibrant murals from renowned Miami street artist scene stalwarts, Ahol Sniffs Glue and Gustavo Oviedo, the specialist stations are where plates such as the tantalising and spectacularly presented tentáculos de pulpo (octopus, yuzu, and purple potato) are prepared alongside sashimi platters; corvina aji amarillo (whitefish, yellow chilli, warm citrus salsa); and langosta trufa (Maine lobster, shrimp, mushroom truffle tosazu). Highly recommended is tucking into one of the three Nikkei Tasting Menus, each consisting of eight courses and containing a selection of the restaurants most popular dishes from each of the stations.
The 220-seat restaurant is located at the top end of Lincoln, a style-forward spot of Miami Beach that has undergone a transformation in recent years, and features Shou Sugi Ban wood ceilings, lush hanging gardens, and that large floating ceiling which award-winning London-based architectural and design practice, Andy Martin Architecture (the same designers behind Chotto Matte London), explain: "was inspired by an abstracted Japanese roof known as Irimoya".
Delivering year round al fresco dining—whilst protecting against those infamous Miami downpours—the ceiling crowns an ambitious design project that is expertly matched by the restaurants standout dishes. An all-round triumph that looks set to be one of Miami Beach's go-to hot-spots for years to come.
@chottomatteofficial
@andymartinarchitecture