Meaning 'story' in greek, the design concept behind ISTORIA hotel on Perivolos Beach, Santorini, was inspired by the tales of those who'd resided in the building over the years.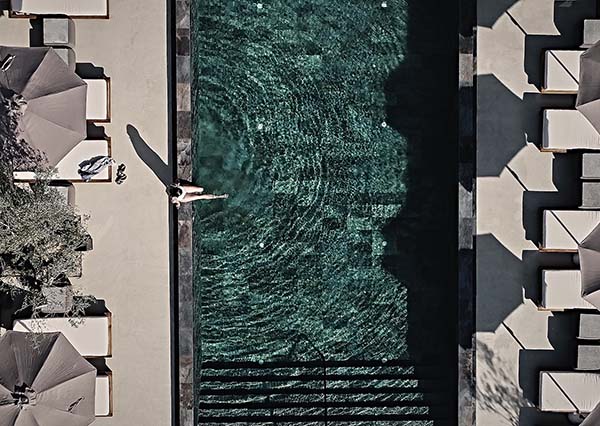 On the edge of a dramatic black beach on the alluring Aegean Sea, the Mediterranean gem—a Design Hotels member—was designed by Interior Design Laboratorium, who have transformed a former private residence into an eclectic boutique property that brings together the tranquil essence of an island retreat with both rural rusticity and a devastating urban appeal.
Designed with the cosmopolitan traveler in mind, the 12-suite hotel blends a stripped-down contemporary aesthetic with a next-generation social hub, making ISTORIA a one-of-a-kind on the island. In keeping with the whitewashed, cubiform houses typical of Santorini, dominating elements include traditional arched door and window openings interrupting the thick structural walls, whilst the building forms a conceptualised floor-plan that guides guests from space to space.
"The goal was for the visitor to feel as if the old residence is still present, despite the alterations," explain Interior Design Laboratorium. "Like a heart-beating narrator whispering a wordless story to each and every guest of the hotel." Retaining authentic elements—parts of an old wooden roof and stone pillars—and combined them with the minimalism of the Cycladic style, guest suites, a wonderfully enticing home from home.
With an Asian spa offering organic and soul-cleansing treatments, and al fresco dining courtesy of chef Alexandros Tsiotinis, there's really very little need to leave this divine corner of the Greek Isles. Bed in, switch off, and get ready to write your own Santorini story.