The guys behind Louis Pretty, Berlin, sure have chutzpah — brothers James and David Ardinast, and Oskar Melzer, having assembled what can only be described as a 'mob' of German restaurants.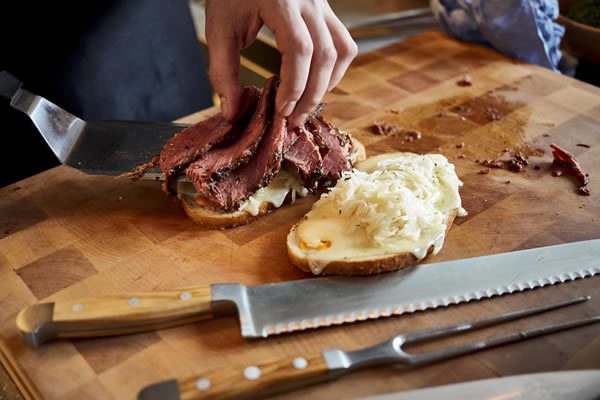 The trio's family business has its ties in Frankfurt, its heart in the heyday of New York's mafiosi. Maxie Eisen and Stanley Diamond are a pastrami bar and fine-dining restaurant respectively; the former named after a German immigrant butcher, and cohort of Al Capone, the latter an American-Jewish associate of the Lucchese crime family.
The organisation is now set to darken Berlin's doors, where Louis Pretty — a member of the Kosher Nostra — joins the villainous clan. Like Melzer's own Mogg & Melzer before it, Louis Pretty brings all the goodness of classic Jewish-American delicatessens to Germany's capital. The three dons spent six months mastering an epic pastrami recipe: four weeks cured, several hours smoked, cooked and then marinated at the end — the complex process celebrated simply on your plate, accompanied only by rye bread with coleslaw, pickled gherkins and mustard.
Philipp Mainzer (PHILIPP MAINZER Office for Architecture and Design), Paul Bauer and Melzer himself are responsible for the instantly iconic interiors, which look to the west coast over New York's mean streets for inspiration; namely David Hockney's 1967 piece A Bigger Splash. That explains the burnt orange walls, swimming pool tabletops, and seating upholstered in bazooka pink Kvadrat fabric.
A framed signed photo of Seinfeld hangs as a lonely nod to New York's Jewish culture on the walls of the mob's Palm Springs summer getaway. Louis Pretty, a surefire hit.