Of all the design and hospitality projects that find their way to We Heart HQ, Disneyland and Liberace are seldom cited as influences. Scratch that: never before cited as influences. But then Frankfurt's Old Sachsenhausen neighbourhood, and its new wine bar Showmanship, are places like no other.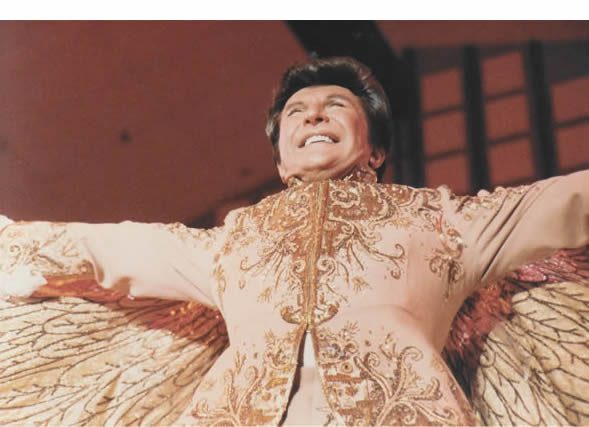 The folks behind this beguiling bit of fantasy are restaurateurs James and David Ardinast — who have projects like Maxie Eisen and Berlin's Louis Pretty in the bag — and the LINDENBERG group, whose shareconomy-minded accommodation projects in the city have impressed with their innovation. And innovation is far from in short supply here, in what its masterminds describe as 'a homage to '70s Las Vegas, full of glitter, champagne, homosexuality, bold aftershave, music and dancing.'
Christened after the moniker American entertainer Władziu Valentino Liberace won for his famously flamboyant presence, Showmanship takes place in a 13th century medieval castle; a gothic masterpiece with nooks and crannies where natural wines from Frankfurt wine store shop Cool Climate will be paired with matching cheeses and charcuterie from a local butcher, and DJs will keep the show going long into the night.
It's a Disney-like slice of magic that brings something entirely new to a fairytale corner of town that was a walled village until the end of the 19th century; contemporary furnishings and extravagant touches like that gigantic pink stuffed swan serving as an eccentric juxtaposition to the historical locale. Open each Thursday from 7pm (reservations not necessary), Showmanship will be treading the boards for a limited time only; this Alt-Sachsenhausen sensation set to deliver its final hurrah in just 12 months time. Catch it while you can.