Paying homage to the Irani cafés that once upon a time were the fabric of life in Bombay, Dishoom has been serving Bombay comfort food such as House Black Daal, Pau Bhaji, and the Bacon Naan Roll since 2010—when the first restaurant opened in Convent Garden. Growing since, to five restaurants in London and one in Edinburgh, Manchester's hungry will be beyond themselves with glee as, this winter, the Dishoom team will open up in the rather grandeur Manchester Hall on Bridge Street.
We'll be posting more nearer the (yet to be confirmed) opening date, but in the meantime take a look at the renders of the space and a gander at the press release below for further mouth watering snippets.
***
Dishoom, Manchester, Press Release: The team behind the much-loved Dishoom restaurants are delighted to confirm that they will open in Manchester this winter, in the historic Manchester Hall on Bridge Street.
Like their other restaurants, this newest member of the Dishoom family will pay loving homage to the old Irani cafés of Bombay, and will be open every day from early until late, serving Executive Chef Naved Nasir's breakfast menu (with the renowned Bacon Naan Roll), followed by the all-day sharing menu of Bombay comfort food – small plates, grills, biryanis, salad plates, rolls and curries. Dishoom Manchester will also feature a Permit Room bar, serving Daru-walla1 Carl Brown's brilliant list of delicious and sincere tipples, as well as some brand-new cocktails and a range of excellent non-alcoholic cocktails, known as 'copy tipples'.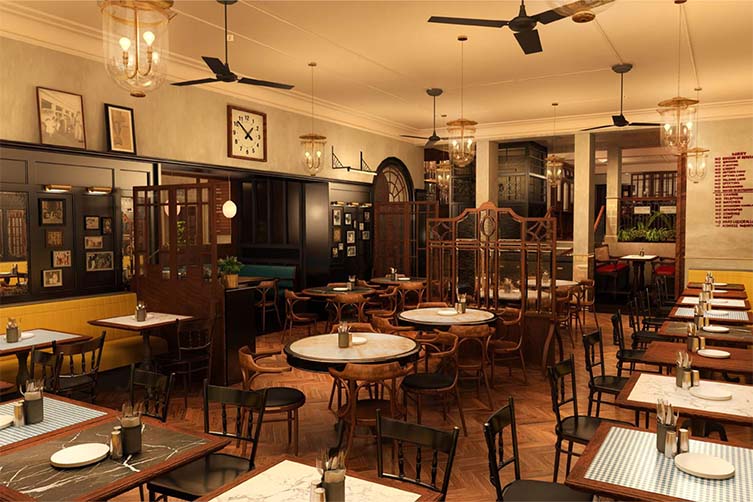 Irani Cafés: Irani cafés were once part of the fabric of life in Bombay. Opened early last century by Zoroastrian immigrants from Iran, there were almost four hundred of these cafés at their peak in the 1960s. Now fewer than thirty remain. Their faded elegance welcomed all: courting couples, sweaty taxi-wallas, students, artists and lawyers. The cafés broke down barriers by bringing people together over food and drink. Bombay was more open and welcoming for their existence. Dishoom pays homage to these Irani cafés and the food of all Bombay.
Freemasonry in Bombay: The Dishoom team loves exploring the connections between their restaurant locales and Bombay, and immersing themselves in the past (from momentous historical events to odd little stories). So, in Dishoom Manchester, they saw an opportunity to explore the unexpected links between Manchester, Bombay and Freemasonry. As a first step, they visited Bombay's Freemasonry Hall – the Lodge Rising Star (pictured above) – with long-time collaborators Macaulay Sinclair. Through the course of their research, the team discovered that this lodge provided Bombay's most influential and powerful people with a valuable space to meet and discuss philanthropic projects, business deals and suchlike. And, much to the team's delight, the lodge has changed little since it was built in 1843 – as such, many of its charming or eccentric characteristics have informed the design for Dishoom Manchester. As always, the team spent much time in the remaining Irani cafés, as well as sourcing original furniture and artefacts, which will be lovingly restored and put to good use in Dishoom Manchester.