Joining Boundary Street with faded elegance and street food inspired cuisine, the eagerly anticipated arrival of East London's latest eatery – Dishoom – has a great reputation preceding it. Their Covent Garden restaurant has for a few years now been a bit of a place-to-go for Indian cuisine. Mirror that in Shoreditch and you're on to a winner.
The interior and exteriors of Dishoom are exciting, inviting, romantic and eclectic. All of my favourite things, so for at least the first twenty minutes I buzzed around with joy admiring the lighting, the family photographs, array of oyster lamps and furniture. Yea I hear the food is good but it's the Art Deco styling that captures my oh-so-fickle mind. The restaurant is spacious, and the Bombay/Deco interiors are cleverly placed throughout a deliberately unfinished backdrop.
Antiquities, textured glass, and a dominant marble bar all make up the speak-easy charm of Dishoom. Designed by Russell Sage Studio, the designers behind Zetter Town House, The Hospital Club and St. Paul's Cathedral (yes really), they have, yet again, created an imaginative and desirable space.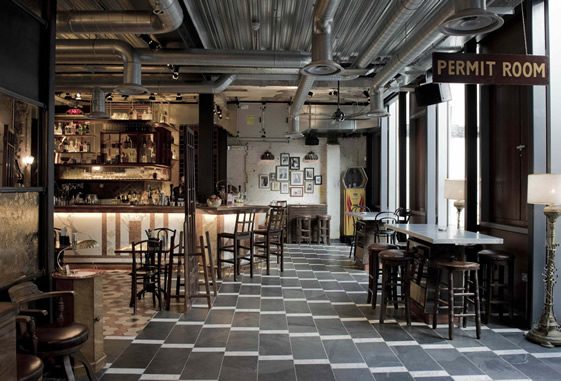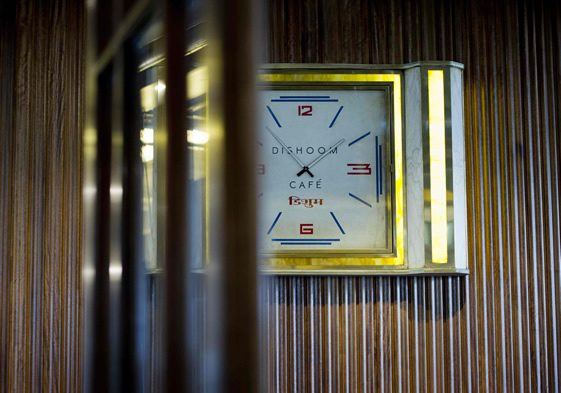 Now for the street food bit – inventive, wholesome and tasty I couldn't quite get enough of their chicken thigh pieces marinated with Philadelphia, yoghurt and cheddar cheese for 24 hours prior to cooking. Moist, light and creamy it came an admirable second to the marinated lamb. The Gunpowder Potatoes, Skate Cheeks Koliwada and their sweet and crunchy calamari were delicate and vibrant with a definite a hint of Bombay. Now pair the sharing plates with a cocktail or two and you have yourself a party. The Permit Rooms hosts a selections of wonderful libations, we particularly liked Edwina's Affair served in a steel cup. A potion of gin, rose and cardamom laced with fresh mint and petals it's definitely one for the ladies. And for the discerning ale drinker, Dishoom have their own India Pale Ale which has been specially crafted by Hackney's Beavertown Brewery.
Serving breakfast, lunch and dinner Dishoom is a fun and exciting all-day restaurant with many perks. Great for parties, cosy dates, and its locale could not be better.
It's also a delight that Dishoom is run by a knowledgeable and friendly staff. A sense of pride and welcome is key in maintaining their Irani Café styled ethics.