On a mission to transform and expand Illa Blanca's cultural offerings, Paradiso Ibiza Art Hotel—set in an over-the-top ode to Miami's idiosyncrasies and Ettore Sottsass's avant garde Memphis Style—is curating a programme seeking to make art more accessible for locals and visitors alike.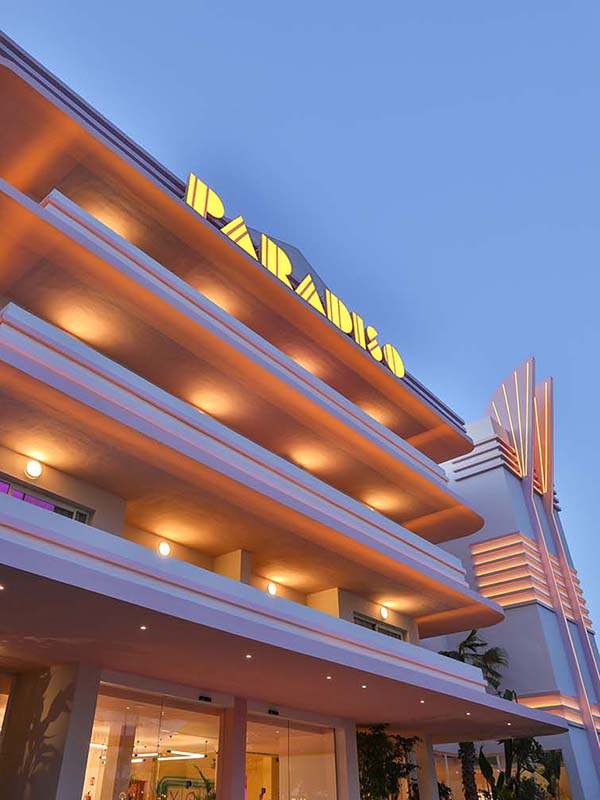 The hotel itself serves as a hub for this cultural renaissance, and is brimful of works by contemporary artists—works that can be found throughout its rooms, art library, and gallery; a space open to the public as well as guests, dedicated to highlighting art through a minimum of three exhibitions each summer. The latest project by Concept Hotel Group, the rooms at Paradiso Ibiza Art Hotel feature Marshall speakers, a Smeg fridge, and pastel-soaked furnishings that nod heavily to the aesthetics of Miami Modern architecture, a style observed from Middle Miami Beach through to its Upper Eastside and known for its themes of glamour and gratification. Collaborations with artists will result in mini-exhibits in the guest rooms, ensuring each and every one is individual to the next.
Once a month a programme of short-duration residencies is set to attract international artists to the island, guest artists invited to inhabit the Zero Suite Residencies, a glass-walled suite where they can tune into Balearic sensibilities and let loose in plain view of all who make their way through the hotel.
Located in San Antonio Bay, the hotel isn't without the capacity for hedonism, but at Paradiso Ibiza Art Hotel they do what they do with soul. Lounge in cabanas at Paradiso's candy-coloured pool area, turquoise water glistening against a palette straight out of Sonny Crockett's wardrobe; dine al fresco at Andy's, a new island destination serving a menu brimming with international cuisine and classic cocktails with a twist; and soak up contemporary creativity set against a backdrop of Balearic beats. The island's famous spirit just got an off-kilter twist.