Minä Perhonen Koti is the new directly-managed shop showcasing the wares of fashion brand Minä Perhonen. Actually, it feels like rather more than that: as the use of the term 'Koti' — Finnish for 'house' — suggests, the site feels less like a mere retail space and more like a direct expression of a vision, of an ethos for living. Minä Perhonen, the brainchild of Japanese designer Akira Minagawa, has had one aesthetic foot at home and one in Scandinavia from the beginning, with the name itself derived from the Finnish for 'I' and 'butterfly'. This multiculturalism has resulted in a combination of two national styles that are entirely distinct, yet nonetheless share common ground in minimalism, to which Minagawa brings flashes of colour and an unmistakable tactile quality.
Designed by local agency TORAFU ARCHITECTS, Minä Perhonen Koti exhibits these characteristics in spades. It's located in Tokyo's Daikanyama T-Site complex, which is itself set within Fujisawa Sustainable Smart Town, a curated urban environment created by Panasonic. Reached through the minimalism and dark wood surfaces of a Tsutaya book store, the space is an exhilarating, joyous blast of creativity and colour. Light floods through the large windows that constitute one entire wall of the room, falling on the brightly-coloured, glossy-yet-organic tiles of the floor. The white walls are crossed by glass shelving that house a profusion of Minä Perhonen's colourful textiles, carefully arranged and fixed with epoxy resin, contributing to the impression of the space as as much an interactive, welcoming gallery space as a shop.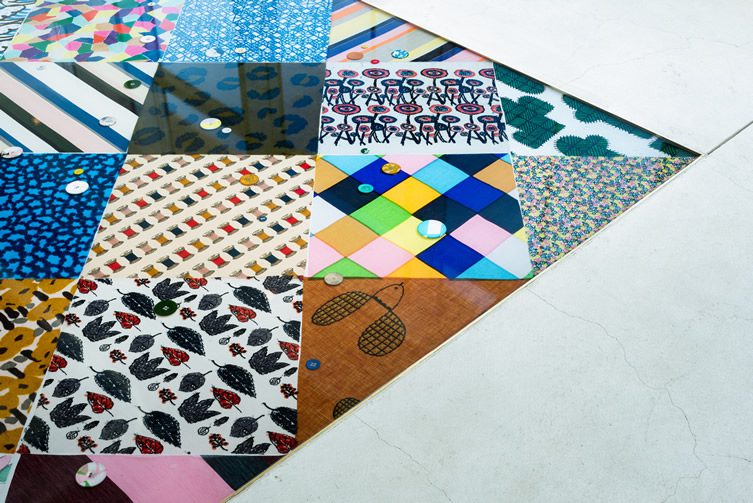 The real focal point, however, is the arrangement of cabinet/drawer-style fixtures that appear to float above the bright textiles of the central area floor; a pleasing jumble of mezzanine-levels and mini-displays, the brass tubing that holds them aloft allows the striking idiosyncrasies of the tiles below to remain visible and give the whole room a truly unique, almost zero-gravity feel. TORAFU said that their intention was "to create a space which persons of all ages will find welcoming, while communicating to them the world-view of Minä Perhonen Koti" — if that world-view is of a place where everyday reality seems subtly suspended, displaced by a quietly fantastical one composed of luminous colours, wide open spaces and minimal yet welcoming textures, they've succeeded admirably.