We're bombarded by information, predominantly visual, yet there can be precious little joy in it. Bombings, terrorists, refugees, natural disasters; if you've ever watched an Adam Curtis film, you'll be familiar with the narrative of rolling news used as a medium to create a perpetual unease which big business and politicians benefit from.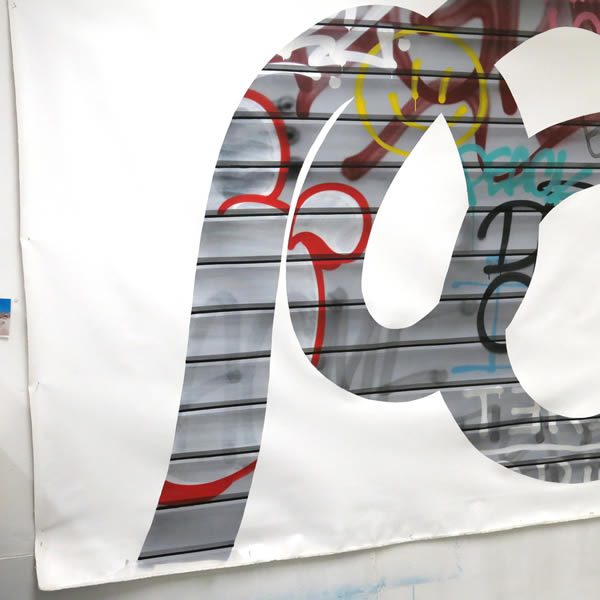 In short: things can suck. Leicester City won the Premiership last night. Joy. Here, have some mistruths and corporate propaganda for breakfast, just in case you were thinking of carrying that smile with you for too long. Since its rise to prominence in urban America's 1970s, contemporary graffiti has, for some, been an antidote to modern bleakness — adding colour and craft to the concrete jungle; conveying political messaging for the disaffected.
Street art today, though, often brings with it that same script; just written by a different protagonist. Capitalism, terrorism, and the realisation that both those isms bed one another. Banksy's stark political messages, and a million copycats — the street artists share their canvas with the same megabucks advertising they decry; often feeding one another in a melee of sloganeering, good versus evil.
Where is the joy? It is at the hands of French street artist Gris1, that is where. Gris, of course, is French for Grey, and that's as subversive as this graffitist's messaging will take you — for his muse is a riot of expression and liberation. And oodles of fucking joy. Gris1, a member of collective Da Mental Vaporz (DMV) Department, takes iconography from Pop Art and contemporary culture, and weaves them together in a frenetic fusion of styles; openness, spontaneity, and exuberance at their core.
Showing now at Kolly Gallery, Zürich, Interview is a new body of work where the title of each piece poses a question in place of a title; the overt expressionism of the Paris-based artist's painting delivering his response. 'What is essential in your graffiti? Spontaneity?' Asks one artwork, answering with a semi-self portrait in a riot of colours and opposing styles. Wouldn't it be nice if we were all a little more impulsive?
Interview continues at Kolly Gallery, Zürich, till 28 May.