Shaking up the Vegas hospitality scene with all the bombast of Elvis in his prime, Park MGM (formerly Monte Carlo Resort and Casino) has opened the doors on its central Strip location, marking the beginning of a fascinating project that will eventually combine a version of NoMad hotel unique to Sin City, and a hip neighbourhood of sorts; set to include a new dining concept from Roy Choi, the launch of Lady Gaga's Park Theater residency, and plenty more.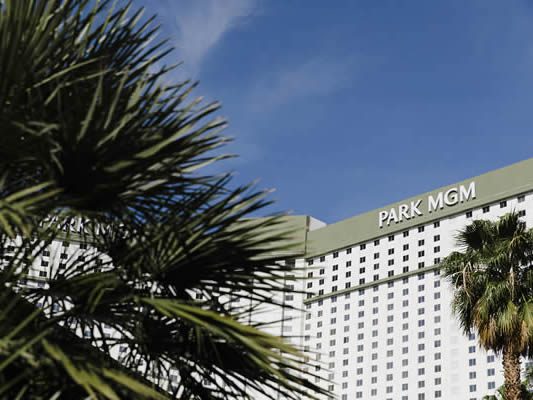 A partnership between Sydell Group and MGM Resorts International, Park MGM—a social hub that brings a boutique feel to resort scale—is set for completion later in the year, but currently offers amenities that include a fine selection of dining options including Primrose; pool areas that channel the South of France with cabanas, wet decks, cushioned chaises, and DJs; and the intimate Park Theater.
Naturally, a dedicated casino floor is a key fixture here—remodelled to reflect Sydell Group's consistently considered vision, whilst retaining key elements of its Monte Carlo roots such as refined sparkling chandeliers, intricate crown moulding, and its stained-glass ceiling; all of which have been refurbished to their original beauty. Stepping into the bedrooms, guests at Park MGM might feel as though they've entered their own private apartment (should they be handsomely well off and of impeccable taste); a mix of antique-inspired pieces, original artwork, and 'found' objects giving off that familiar Sydell Group flair.
Causing ripples through Las Vegas that could be measured by the Richter magnitude scale, the new lights are switched on, classic glamour is back on the Strip, and Park MGM are drip-feeding dazzled punters with promising new developments as it looks set to confirm itself as the city's premier entertainment district. My friends say I'm actin' wild as a bug. I'm in love. I'm all shook up