Located high above the Atlantic Ocean, close to the cliffs of Portugal's Azenhas do Mar—a seaside town with whitewashed cottages and beachfront restaurants—Casa das Arribas welcomes guests looking for serviced holiday apartments combined with the amenities of a luxury hotel and the space and privacy of their very own holiday house.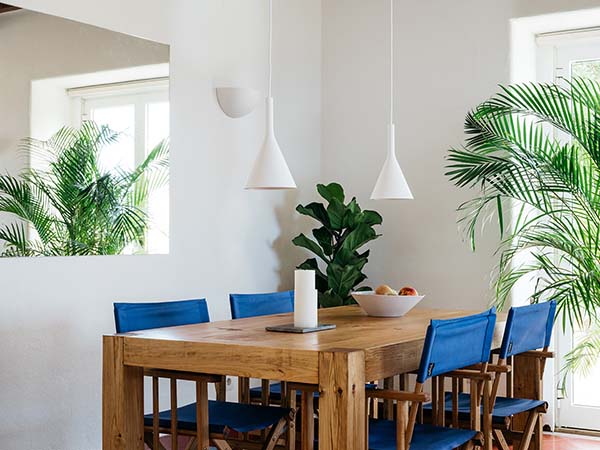 Set on a family-owned estate that dates back to the 1940s—originally designed by Portuguese architect Raul Lino whose other work included Casa de Santa Maria, Cascais; St. Patrick Tower, Estoril; and Lisbon's Tivoli Theatre—Casa das Arribas features a selection of properties dotted around the estate; each differing in size and amenities, yet all boasting beautiful contemporary design and furnishings.
Kitchens are fully-equipped, bathrooms are filled with organic shower gel, shampoo and soap based on various cold-pressed nut oils and produced by local cosmetics artisans, and fluffy bathrobes are supplied for each guest. Beds, mattresses, pillows and bedding are handmade in Northern Greece from naturally-replenished raw materials such as cotton, seaweed, wool and wood. Perfect for both a good night's sleep and the environment.
A 9,000 sqm shared garden is home to tropical plants and stone paving that leads to hidden terraces and BBQ spots, whilst the swimming pool is flanked by palms with ample seating to recline carefree under the Portuguese sun. A tennis court is available for the more active guests, and other outside gym equipment can be supplied for those maniacs seeking a full body workout.
Under an hour's drive from Lisbon (car rental here is quick, practical, and affordable with companies such as Auto Jardim); boasting impressive views of the coast from Cabo de Roca to Ericeira; close enough to the town of Azenhas do Mar whilst still offering unrivalled disconnection, OUTPOST – Casa das Arribas is a welcome design haven in this charming corner of the country.