We're out in the courtyard of the Boiler House at London's Old Truman Brewery, listening to Björn Meyburg of Hamburg on Tour explain exactly what to expect over the coming two days. Having curated similar events in Gothenburg, Copenhagen, and Vienna, their team of experts are in London to show the UK just how the city of Hamburg lives, breathes, and prospers through a mix of maritime charm; diverse cultural offerings; music; and food and drink. And alongside Meyburg, a colourful collection of diverse characters and a heap of conviction let Hamburg live and breathe on Brick Lane.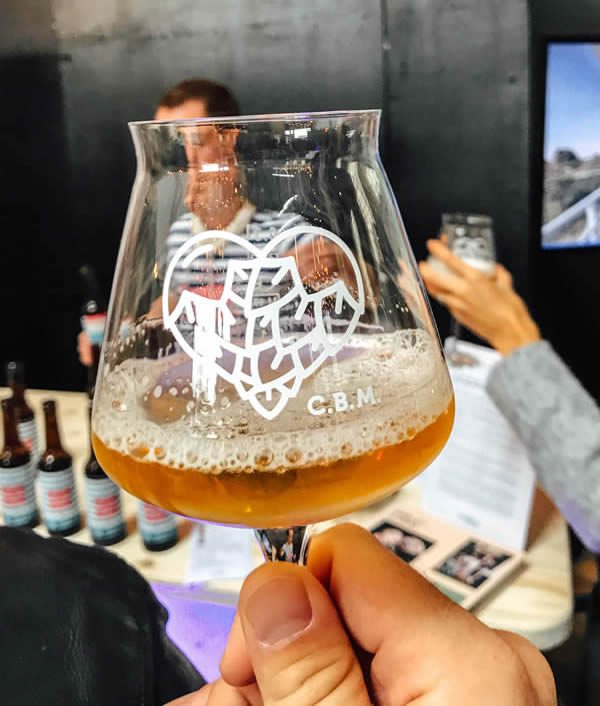 Through live music; craft beer and coffee tasting; short films; a street art workshop; interactive city tours via VR technology; a taster of Stefanie Hempel's iconic musical Beatles-Tour; and talks with Ewald Lienen, former pro football player and current technical director of the very left-leaning FC St. Pauli, the intoxicating quintessence of this storied north German city emotes east London's curious natives and visitors over the course of an unprecedented weekend.
A major European science and education hub, home to a multitude of creative industries and cultural spots — that include the finally-finished Herzog & de Meuron-designed Elbphilharmonie concert hall located on the Elbe River — Hamburg is much more than just a city. Famed for paving the way to success for a number of British bands (The Beatles cut their teeth in the clubs on and around the Reeperbahn, the city's red light district), its latest accolade includes being voted 2018's fourth best destination to visit in Lonely Planet's recently-published annual Best in Travel; something curious locals will learn as they begin streaming into the warehouse venue.
We enter on day one, intrigued by the notes that tumble from the Nathan Ott Trio (sound-checking for the first gig of many), and looking forward to bands and singers that represent the Elbphilharmonie; metal festival, Waken Open Air; the hip MS Dockville Festival; revered Reeperbahn Festival; Hurricane Festival; and Hanse Song Festival. An eclectic array that will shake the stage with sounds of electro-pop, folk rock, jazz, and acoustic melodies; the latter surprisingly courtesy of MUTZ, frontman of thrash metal band Drone — a hulk of a man who oozes as much charm and personality as he has tattoos and piercings.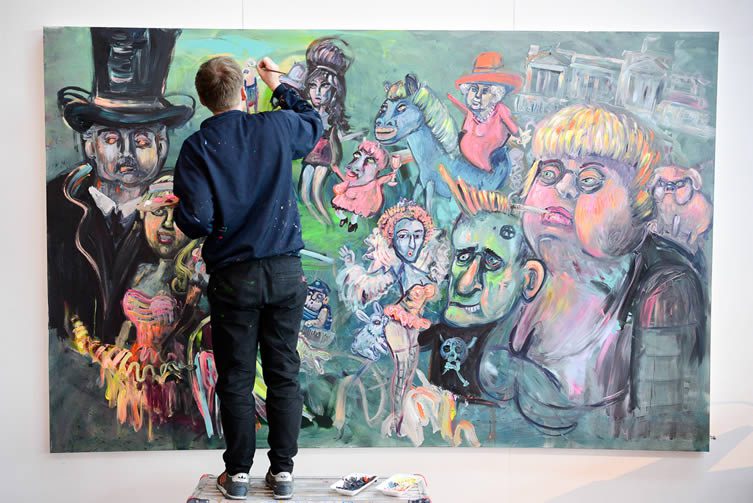 Contrasts are what constitute the very quintessence of Hamburg, and with that we begin the day with a quick beer tasting — 'Lütte Höög' a new beer brewed specifically for the pop-up — before getting a taster of Stefanie Hempel's Beatles tour, and the chance to witness the beginnings of Uli Pforr's live-painting mural, which will see the the artist combine elements of Hamburg and London over the two days.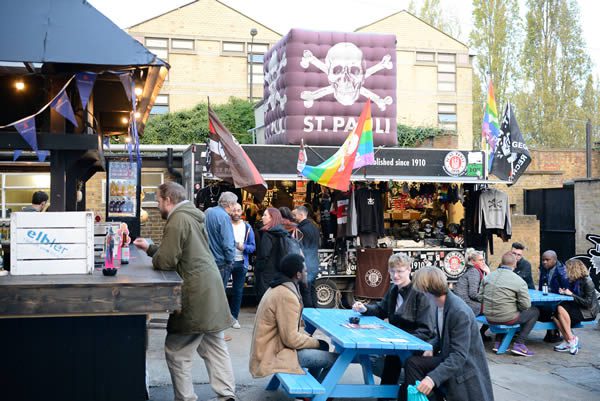 Scores of burly sailors are dotted in and around the venue and Brick Lane, the Instagram set keen to snap a winning selfie; a trip to experience Hamburg and its frenetic spirit in person up for grabs. Out in the the Boiler House's courtyard, FC St. Pauli have set up camp to sell their emblematic apparel and accessories, sharing a space with DJ and music journalist Tina Edwards, who is spinning the sort of beats that jar against those punk-inflected skull and crossbones; a sharp contrast that would be embraced by the open-minded club.
Day one in full swing and we're listening to Alisa and Gordian of the other shi, a duo we first saw at the Reeperbahn Festival in September, the now full London venue stomping along to their sombre lyrics, disjointed melodies and melancholic beats. In the background the beers are flowing and currywurst (Hamburg are one of the city's to lay claim to inventing this food of the Gods) cooking, even coffee roaster Speicherstadt Kaffeerösterei are elevating their award-winning brews with the addition of a few drops of liquor … this is the spirit of Hamburg and it's smacking Londoners around the chops like a brisk North Sea breeze.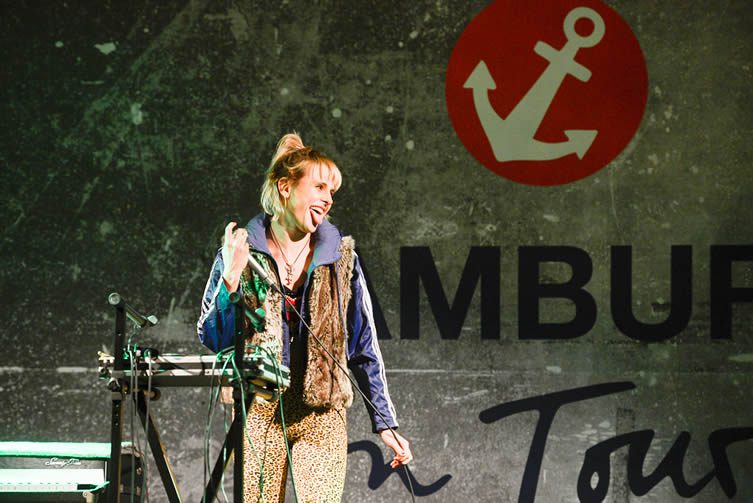 As day two gets underway, the footfall is noticeably higher. Perhaps it's the fact that it's Saturday and Brick Lane is buzzing with markets and people, or it could simply be that word of this unique pop-up has got out. Speicherstadt Kaffeerösterei kick off proceedings with a coffee workshop, the buzz of excitement clear to hear as the bands are yet to start, and a couple of hours later we join artist Macha's street art workshop. In collaboration with the FC St. Pauli-approved Millerntor Gallery, the artist teaches aspiring Banksys how to cut out a stencil before taking us across the road, spray-can in hand, where we throw up our own piece of art. In broad daylight.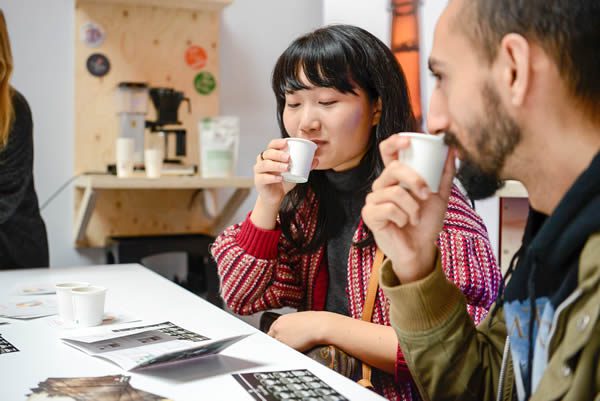 Back indoors and Hundreds, presented by festival MS Dockville, penetrate the space; singer Eva Milner's ethereal voice harmonising magically with the band's slick electro arrangements. Having recently released their third album, something tells me the UK will be hearing more from this brother/sister act in the near future. Hamburg's festival spirit planted onto east London's diverse streets, the event free-wheels its way into the night before being closed by our speed metal friend MUTZ; whose energetic and spirited performance takes his city's uncompromising quintessence and uses it to lift the entire venue.
Bold, sometimes brutal, always beautiful. If any city should hit the road and churn out its greatest hits, Hamburg is it. Showing London its unrivalled temperament and first-rate attractions, Germany's second largest city leaves its public cheering for an encore. MUTZ is happy to oblige.