"Answering to every need of our guests," comments 8Hotels founder and CEO Paul Fischmann, "from the digital nomad to the everyday leisure traveller, Felix Hotel will offer a fun and stylish alternative to the average airport hotel." With a high-flying theme throughout the property, Felix's nomads and everyday travellers can choose to stay Economy, Premium Economy, Business Class, or First Class; their 'cabins' each boasting super fast WiFi, power rain showers, 55" tellies, and blackout curtains.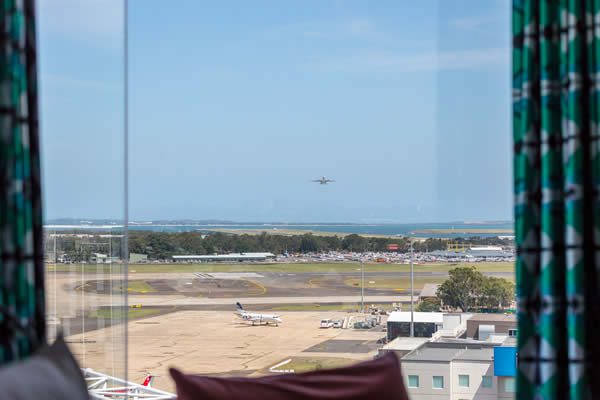 With 150 rooms and design cues from the Golden Era of air travel—from Fellini's document of the Jet Set, La Dolce Vita, to the mid-century allure of space age airports and the early glamour of air hostesses—Felix Hotel by 8Hotels is raising the airport hotel bar sky-high; its impressive aesthetic, designed in collaboration with Cressida Kennedy from Space Control, ushering in a golden era for contemporary times.
At Sydney's Felix Hotel, your journey starts at the top, checking-in on optional self-check-in kiosks in the penthouse reception. With views over the airport and its runways below, this space also features a swanky cocktail bar, befitting of the iconic Jet Setters who defined air travel in the 1960s; an outdoor rooftop cinema; and 24-hour food shop where guests can dine on locally-sourced fare washed down with an ice-cold beer or glass of wine.
The sky lounge is a comfortable spot for the nomadic workforce to catch-up on emails, whilst the Boeing and Airbus meeting rooms suit those looking to host conferences—with Felix Hotel having gone one step further for those companies really looking to impress, having partnered with private jet provider Fly Airly to create a package that includes arrival in Jet Set style. Just looking to splash the cash? Leisure guests can too enjoy a taste of the high life, Felix's Sky's the Limit packages incorporating a two-hour scenic flight over Sydney on board a lavish private jet.
Harking back to an age where commercial jets resembled luxury ocean liners, Sydney Airport's game-changing Felix Hotel lets you kick back in the decadent fashion of those bygone times. Prepare for takeoff, airport hotels may never look the same again.