Beautiful Crime gallery introduces street artist and furniture designer SHYGUY to unveil a collection of street and neon art, furniture, and lighting at her own home during this year's Clerkenwell Design Week.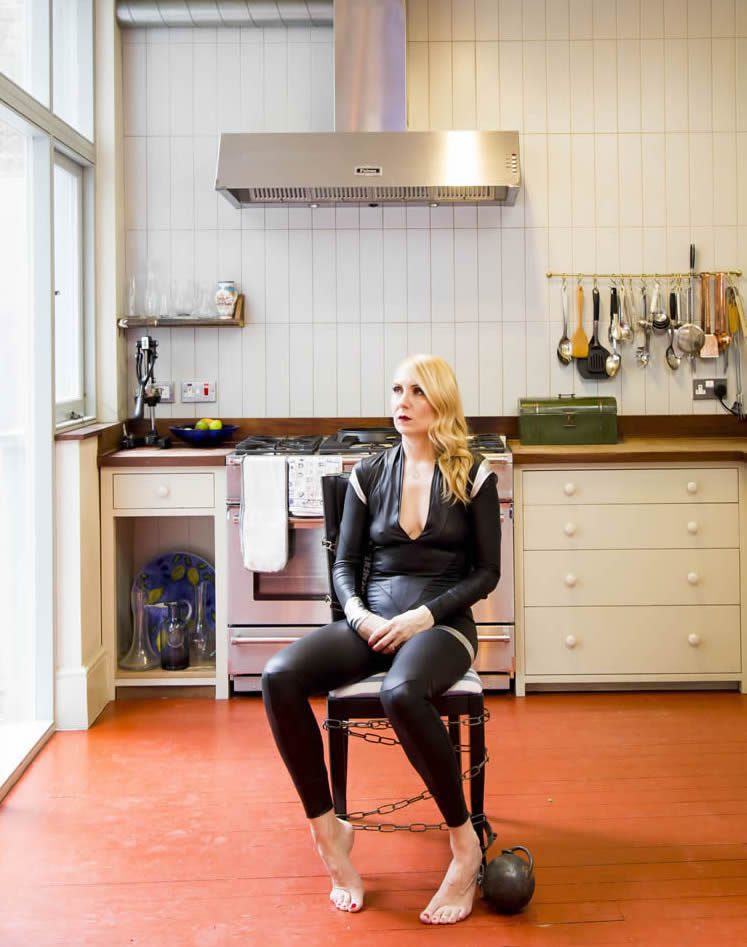 Naomi Chainey, the artist behind the work, previously played it safe—settling down in Dorset with her two children while co-founding a successful business that came-up with toy manufacturing ideas to help stimulate children's creativity.
Having pursued her dreams of becoming a street artist, Chainey will unleash a bolder-than-thou anthology of products that relate to her narrative journey as a artist and designer. Street art led the creative to making light boxes, neon, and furniture—which now brings us to her Clerkenwell home, a converted pub that will serve as the backdrop to a smorgasbord of pure punk and and rock 'n' roll.
While the pub—once an infamous hub of the Britpop scene—has long been sanitised of its carousing clientele, its rock n' roll DNA remains. When asked why she was opening up her home to the public to showcase her street art, Chainey explains that she would be hard-pressed to find a white cube that could do her work justice; instead coming-up with the idea of holding it at her own home, where the work is in perfect situ among a whole host of over-the-top rock star styling.
A cocktail bar, which had been tossed out onto the street by her brother after a night out in Putney, functions in the lounge, where many a martini is routinely mixed. The bar had its own new narrative when Chainey spray-painted it gold and customised it with a neon sign spelling out Man's Simple Pleasures. In her bedroom, two ornate beds made by her great grandfather have been cast together and adorned with cockerels and a smattering of cheeky text. Meanwhile, upscaled items such as lecterns and confession boxes are reworked into one-off furniture pieces.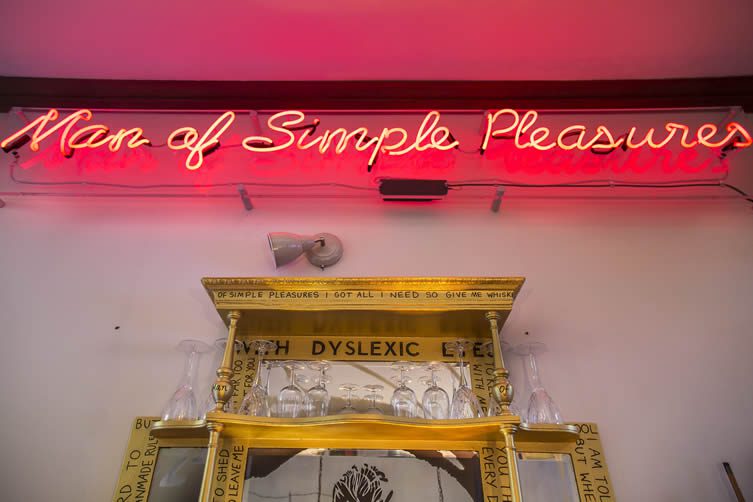 Ever drawn to rock 'n' roll and fashion, Chainey's vision for a brand that encompassed street and neon art, upscaled furniture pieces, and lighting began taking shape. Self-effacing and soft-spoken, Naomi created SHYGUY, a bold, irreverent alter-ego who was more aggressive, more outspoken, and with more chutzpah that she had ever dared. Once conceived, SHYGUY, a more sensual, risqué side evolved; now all she needed was learn to cut and stencil like a pro.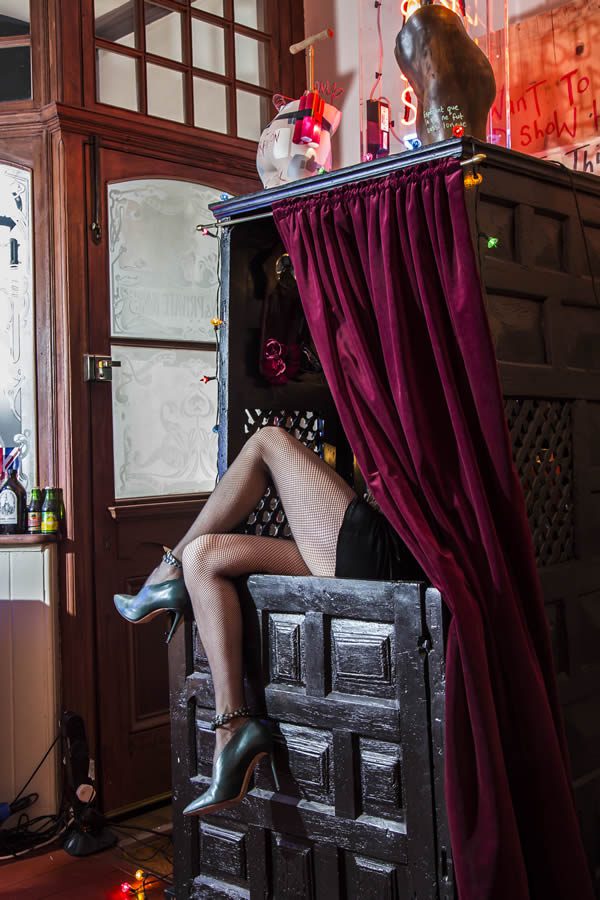 Hutch, a street artist from Brighton whose work she had followed and admired, stepped-in and showed her the ropes. Over the course of five months, the street artist—who had made a name for himself in London, Brighton, and New York—helped Naomi work out the stencilling precision needed to successfully executive her ideas, after which she was itching to get out there with a can of spray paint.
After a brief period as Hutch's apprentice, Naomi was ready to hit the streets. Entitled The Reflection, a painting of Christ by Carlo Sismonda was her first attempt at street art on Whitecross Street. She would also paint Compromise Girl on the same street in Shoreditch; a work that sees Chainey herself pictured in wedding attire, bottle of beer in hand, preparing for a celebration that never took place. The study stands as a note-to-self not to compromise one's own happiness. Meanwhile, she created an artwork of her daughter Lottie on a construction site facing her schoolto support her when she was struggling with the relevance of her school studies.
Once she'd imprinted SHYGUY on the streets of London, the artist turned her attention to furniture. A 17th century Spanish confession box underwent a lengthy restoration process before being painted black. Reworking new tropes from existing furniture is a key component within the SHYGUY story, Naomi also having a passion for lighting—as realised in a fierce collection of table lamps which are as playful as they are provocative. Entitled Bad Asses, this functional fetish range reference Allen Jones, an artist whose works have been so influential that no image of women-as-object can be created that doesn't nod to them.
Taking a cast of her own posterior, which would form the table lamp base, each work features a buttock-based design with varying shades of provocation elevating them to another level. Lady With the Lamp has a distressed metallic base adorned with an antique miners lamp. Golden Ass is finished in a smooth burnished gold, topped with a white neon halo; whilst classic gentleman's club lampshades sit atop bases accessorised in bondage gear complete with tattoo art embellishments for Bum Chums. Whatever the collection is channeling—punk; rock 'n' roll; fashion; or fetish—to paraphrase the Wizard of Oz's Dorothy: "Toto, we're no longer in Dorset."
Entitled SHYGUY, but really anything but, Chainey's saucy medley of work has more front than Brighton's endless promenade. Spare the blushes and come and see this brazen 'body' of work at the artist's own home during Clerkenwell Design Week. Until 27 May (by appointment thereafter).