Photographer and filmmaker Charlotte Colbert introduces a new concept in moving image: portraiture and sculpture. Installing in several locations across London, Charlotte has positioned a series of powerful anthropomorphic screen sculptures, constructed from corten steel, which display screens of body parts and features.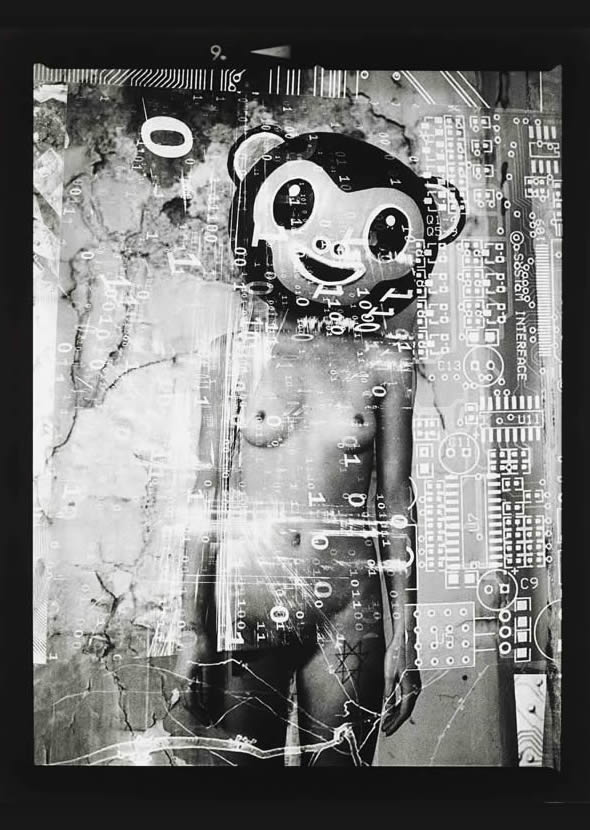 Charlotte is one half of the frolicsome Colbert pairing. As the wife of the wacky pop art impressario, Philip Colbert, the married twosome are often photographed on the town, eccentrically dressed in his Rodnik Band designs of lobster suits, Snoopy attire and wearable art dresses; complete with their toddler daughter and newborn son in a Shark-design pushchair.
As an artist, Colbert's work has a much darker twist, making a name for herself as a practitioner of the surreal in her film and photography work. Her most recent solo exhibition (Ordinary Madness at Gazelli Art House) captured an eery, unsettling and fantastical world where games, daydreams, emojis, and sex games all come into play. In her A Day at Home exhibition, Colbert focussed on the dark thoughts that exist inside yourself: "I was interested in the way in which that space becomes a canvas for inner thoughts, fears, fantasies", she explained.
For her 2016 film, The Silent Man, a woman attempts to cope with the end of a relationship by cosying up to a life-sized sex doll in the image of her former partner (who bears an unmistakable resemblance to Cillian Murphy).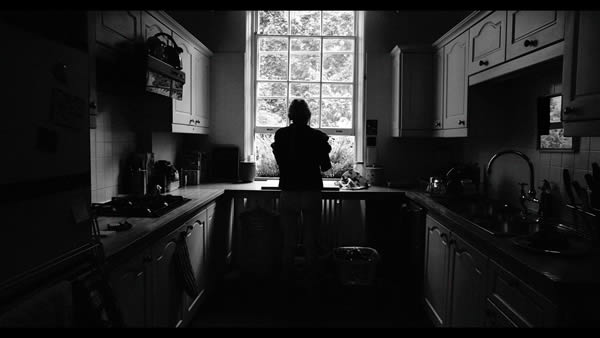 It is very loosely based on the legendary grieving process of early 20th century painter Oskar Kokoschka from his great love Alma Malher through the figure of a home made doll. Mindscapes have become Colbert's calling card. Her Screen Portraits series, comprised of multiple devices depicting close ups of her subject, are the most recent addition to an oeuvre that meditates on the concept of public and private relationships.
Mother and Child, Colbert's family portrait exhibited at the front of the Coutts building in the Strand, features a family portrait of herself, artist husband Philip Colbert and their daughter Indiana; each of them blinking, breathing and being. Colbert herself is from an unconventional family background — her father James Goldsmith had eight children, famously dividing his time between his families, and living in-between several households in London and Paris.
Colbert's new work is a signifier of how the family portrait has changed over time and how indebted it now is to technology. Colbert's juxtaposition challenges the historical portrayals of family photographs, representing couples and kinship. Colbert's semi-robotic composition riffs on the touching domestic set-up of a family, a tender fragmented trio muddling together on screen.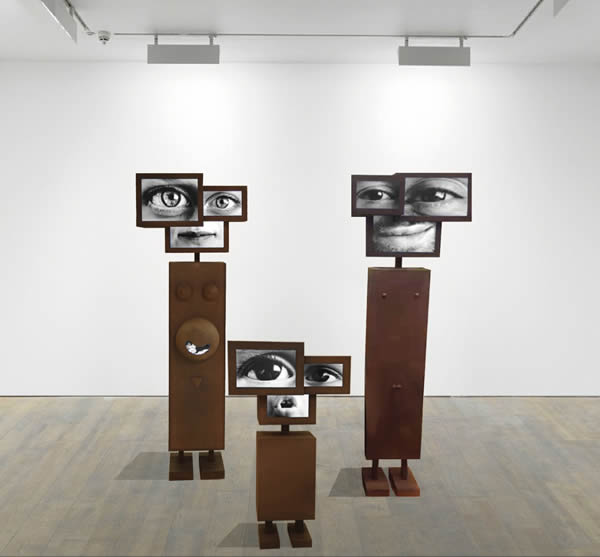 In another location, at the Now Gallery in Greenwich, Colbert presents another vignette on family, this time reworking the traditional mother and child portrait. The work was driven by Hollie McNish's incensed poem on breastfeeding in a public toilet because of the stigma of performing the most natural of acts in public. Colbert, a mother of a 15 month-old daughter herself, wanted to explore the stigma and censorship around this debate, so she asked her friend Cole to pose. Featuring model Lily Cole, the items were filmed by Charlotte when she became a mother to her newborn; and Cole is pictured breastfeeding her child.
The third sculpture, on display at Arts Club and entitled Disassociation, is a self portrait of Colbert. Filmed while she was seven months pregnant and representing the very common psychological state in pregnancy where body and mind feel separate. An additional sculpture features Soon Kye, an 85 year-old grandmother who was separated from her husband at the outbreak of the Korean war in 1950. In 2016, Colbert undertook a long journey to meet Lee Soon-Kye in her home in Cheongiu, South Korea.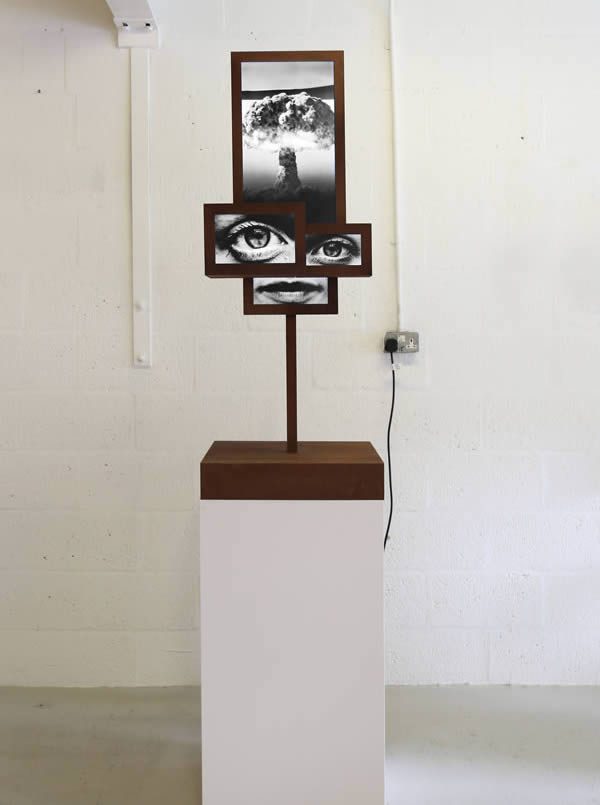 Her husband of seven months, In-Se, disappeared into the conflict, ending up in the north separated from his pregnant wife and unborn child by the Korean peninsula. In 2015, they were reunited after being granted permission to be together for only 12 hours in supervised sessions. In those 12 hours over the course of five days, Soon Kyu, who never remarried, introduced Oh In-Se to their 65 year-old son for the first time.
Consisting of detailed abstracts of Soon-Kyu's face, Colbert captured the details of the waiting, recreating her presence in time. Colbert displays the moving images in an anthropomorphic sculptural arrangement of screen, giving the overall feel of a portrait lost in time; re-discovered in the future and worn by the years that have passed.
Colbert decided to bring her two crafts together to create these large-scale pieces. A new approach to portraiture they reveal details of their subjects in time, capturing their essence in a sometimes uncomfortably intimate fashion.