Located beside Sydney's new cultural and lifestyle playground, Barangaroo, and the waterfront destination Darling Harbour, West Hotel Sydney—the neighbourhood's first design-led offering—features 182 guest rooms, and serves as a haven from the busy streets; designed with soft, dark tones, walnut, brass, in an aesthetic that takes its cues from the jewel-cut, glazed façade by architects Fitzpatrick + Partners.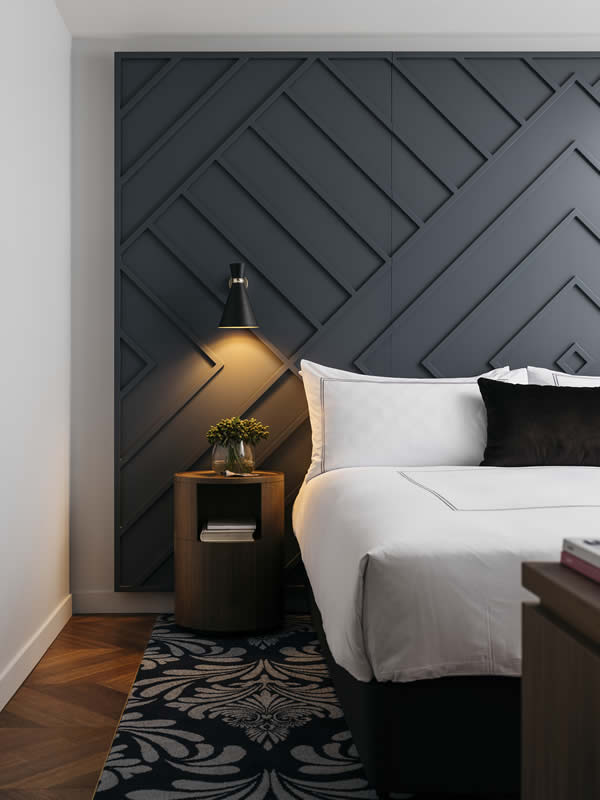 Woods Bagot, in charge of interior design, took advantage of both the hotel's prime location and the dense architecture that hems it in. "We really embraced its difference," explains the studio's Jacqui Senior, "and drew from the crystalline geometric pattern of the façade in creating a joined-up story across the interiors scheme. Sydney is such a bright, light-filled city and hotels here traditionally focus on the views out. Constrained by a lack of vistas, we were looking for a different approach and found it by focusing on that rich internal experience that's done so well in Europe. We've shown that compact rooms in Australia can be amazing."
Set over eight floors, a mini-rainforested atrium is integral to the overall experience; its lush vegetation overlooked by the guest rooms as it connects the hotel's lobby with its restaurant. "Open to the elements, sunshine streams into the courtyard on a sunny day. When it rains, faint scents of the plants emanate and it feels like nature," continues Senior, with Woods Bagot's global design leader, Domenic Alvaro, continuing: "contact with nature is both a basic human and universal need. Biophilic design, which integrates architecture and nature—in this instance, urban nature—is increasingly supported by research findings on its wellbeing benefits."
Referencing the Australian landscape—the bush to the ocean—through a palette of dark eucalyptus greens and greys complemented by deep blues and greens, West Hotel's connection to nature is a holistic experience. Casual dining at Solander sees dishes that embrace the best regional and seasonal produce of New South Wales, Belgian-born executive chef David Vandenbeele showing off his talents via a menu that brims with fresh, seasonal produce; the ideal marriage for a setting that riffs so heavily on the great outdoors.