Even for a hotelier as experienced as Loh Lik Peng, making The Old Clare Hotel happen has been fraught with difficulties. The Sydney venue is a key part of a AUS$2 billion redevelopment of the County Clare pub and the Carlton and United Breweries headquarters into the swanky new Central Park complex. However, the regulations surrounding the heritage-listed site in the city's latest up-and-coming neighbourhood of Chippendale meant major construction headaches. An old boardroom, for example, was suspended in mid-air for six months while the surrounding building was demolished.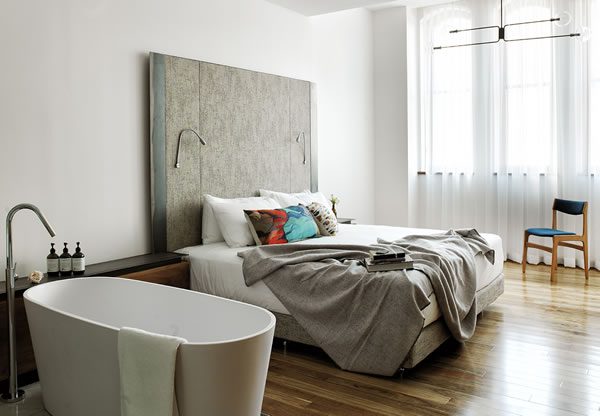 Good things come to those who wait as they say, and now The Old Clare Hotel — designed by architects Tonkin Zulaikha Greer — is open for business with a sleek yet calming vibe that's sure to have everyone's blood pressure back to normal in a trice. The preserved industrial legacy of materials (exposed brick, timber, and concrete) as well as pre-existing design features such as extra-tall windows mean despite the massive overhaul, the hotel maintains oodles of original character. The interior design employs an elegant combination of upcycled vintage furniture and bespoke, handmade pieces in a setting of greys, pale blue, whites and wood.
A long list of notable collaborators include .PSLAB (lighting), Matt Machine (restaurant design), Paul Firbank (vintage machinery) and Eloise Rapp (textiles). The Old Clare Hotel has 62 guest rooms and suites, plus three restaurants — former Momofuku Seiōbo man Clayton Wells' first solo restaurant Automata with industrial fittings by The Rag and Bone Man; Silvereye, fronted by former Noma executive sous chef Sam Miller and Jason Atherton's forthcoming Kensington Street Social — and a spectacular rooftop bar and pool (opening soon).