Named after the daughter of owners Josh Loeb and Zoe Nathan, Tallula's is a neighbourhood Mexican restaurant driven by local ingredients and quality. Located in posh Santa Monica Canyon on the Californian coast, the restaurant is the latest addition to the RC Family; whose other establishments include Rustic Canyon, Huckleberry Bakery & Café, and Cassia.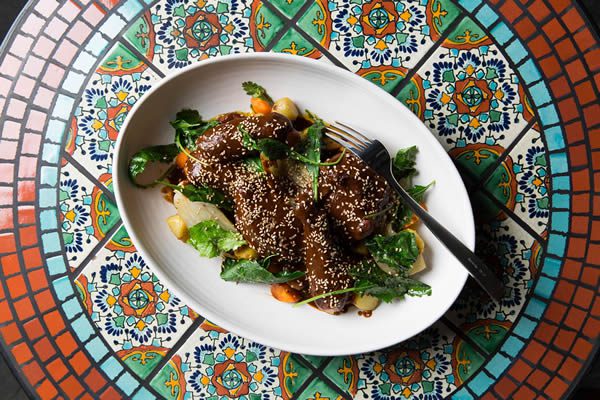 Rustic Canyon chef/co-owner, Jeremy Fox, joins Loeb and Nathan here to oversee the culinary side with a menu that calls upon sustainably-sourced seafood and meat, and seasonal produce from Santa Monica Farmers' Market. With respect paid to time-honoured recipes, diners at Tallula's can feast on a selection of tacos, small plates, and mains—including steak fajitas and grilled carne asada.
Made with love and passion, Fox and his team have mastered a variety of chile pastes and in-house salsas, guaranteed to elevate the already delectable dishes to a new level entirely. Lush greenery and a coastal colour palette flood from the outside in, making for a casual ambience that recalls laid-back Mexican retreats like Tulum; vintage Mexican posters punctuating the homely space and a private dining room with blonde wood floors and communal tables adds a bright Cali-cool juxtaposition. Designed by ORA, Tallula's is the epitome of Canyon cool with authentic Mexican tastes that whisk your palate a couple of hundred miles south.