Warning: These Sandwiches Cannot be Unseen.
Boasting butties that could send Instagram into meltdown, The Black Hamburg, is the newly opened joint from chefs Ian Macintosh and Michael Spurgeon—an experienced duo who know that fast-food needn't equal junk-food—and offers up a nanoscopic menu consisting of just two hot sandwiches alongside a rotating cast of specials.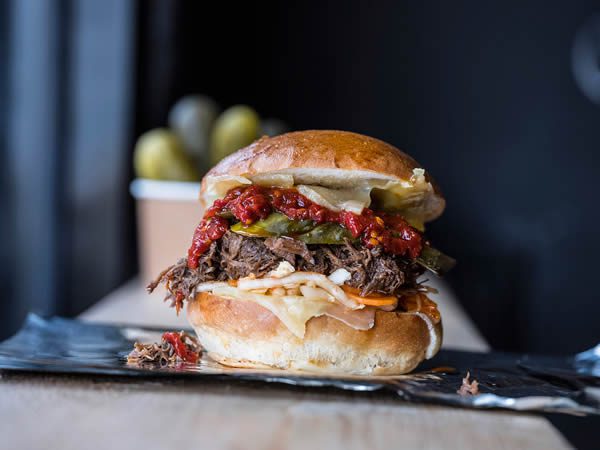 Macintosh (owner of Crouch End's Heirloom) and Spurgeon (of nearby bar, Nickel) have created the late-night pitstop with foodies in mind. "Ask any chef," says Macintosh, "and they will tell you that, no matter how high-end the cuisine you are cooking, we all love fast food." Committed to serving quality over quantity, the menu will change with the seasons—with fillings, homemade relishes, and fermented chilli sauces made in-house from scratch using local produce.
A cosy space—diminutive on size, far from on taste—on Stroud Green Road, Finsbury Park, the current 'regular' sandwiches are their signature ​smokey beef shin, a decadent affair complete with house-made kimchi, fermented chilli, and Ogleshield cheese; alongside a vegetarian option of double-grilled Ogleshield cheese, Keen's cheddar, kimchi, and hot sauce fermented in-house. Both appear equally life-affirming.
Sustainable, locally-sourced, and lip-smacking good, this delicious Finsbury Park hole in the wall is set to get locals drooling with delight.