Occupying a space at Exmouth Market with huge bi-fold windows, reclaimed wooden tables, leather-clad bar stools and a corridor lined with vintage photography is Berber & Q Shawarma Bar — the second offering from Josh Katz and Mattia Bianchi of Berber & Q Grill House. No prizes for guessing the speciality here: shawarma.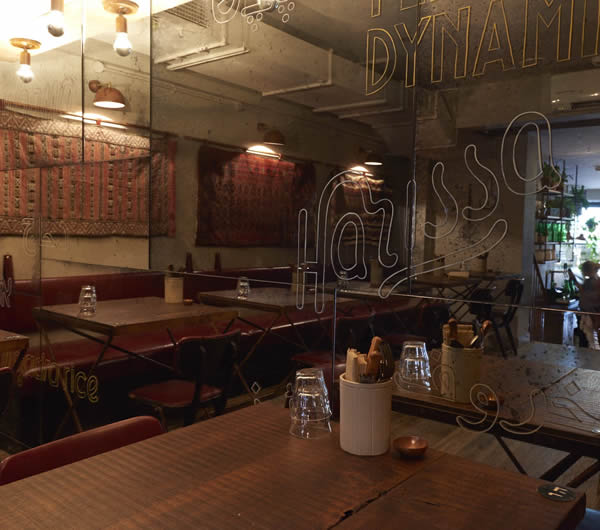 Prepared in the open kitchen surrounded by tangles of dried chilli and garlic, hanging plants, and Middle Eastern ingredients and spices, the humble dish is slow-cooked on a rotating spit over hot coals, elevating it from a late night kebab stop to a entirely new level. 'Back in the UK shawarma can get a bad rap,' explains Katz, 'the 'elephant leg' of grey meat, limp lettuce and cloying chilli sauce. I hope Shawarma Bar will bring this wonderful, and eclectic dish to a new level with fresh, high quality ingredients.'
After experimenting with shawarma at the original grill house — as well as getting stuck into the authentic stuff in places from Tel Aviv to Jordan and Istanbul — it takes pride of place on a menu that also features Middle Eastern style rotisserie chicken served with herb salad, gem leaves, green chilli, grated tomato, tahini and sumac onions. With optional extras liked grilled pita, coal-baked sweet potato and pickle jars, diners are encouraged to make individual wraps, whilst Katz's pita selection — inspired by the market places of Tel Aviv — stuffed with chicken, lamb, slow-braised beef short rib shpondra, or a Jerusalem grill will set tastebuds a-dancin'; all served up with a selection of tongue-tickling sauces.
A take-away hatch completes the 40 cover restaurant, with wonderfully ramshackle design courtesy of Lewis Cook Design.