The Hoxton arrives on Mediterranean shores with the latest in their rapidly expanding portfolio, the brand's 11th hotel housed in Barcelona's El Poblenou, a neighbourhood sandwiched between the sea and city, packed full of creativity and brimming with independent studios, shops, bars and restaurants.
A whopper of a new venue for the Shoreditch-born brand, 240 guest rooms embrace the sun and sea of the Catalan capital, with terracotta floors, faded florals and a muted colour palette very much the style here. Spread over five categories, The Hoxton Poblenou premieres the chain's 'Homey' category, which is ideal for families or longer-stay guests, being kitted out with lounge spaces, dining areas and kitchenettes. With the Bodega (a Spanish-cum-New York take on their lobby shop concept) located downstairs, guests can purchase some 'pica pica' and choose from a selection of natural wines and epic beers from local brewpubs such as Garage Beer Co. to be enjoyed in-room, around the clock.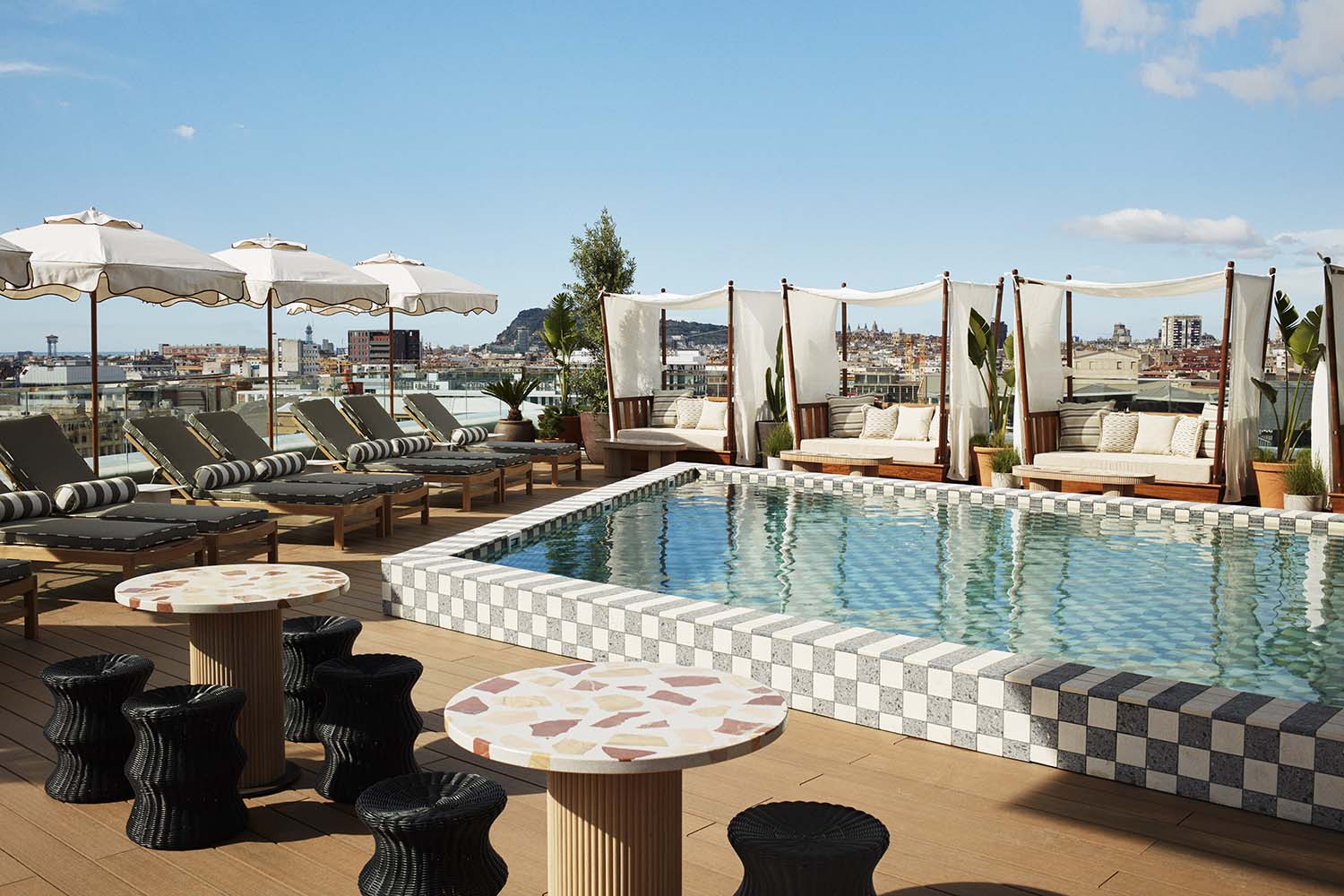 Handcrafted tapestries hang above statement headboards that grace the Hox's comfy beds; some rooms boast freestanding baths; in-room caffeine is supplied by local uber-friendly roasters, Three Marks Coffee; and Barcelona-based John Brown Projects has curated a fine selection of artwork. Those fortunate enough to bag a room with views of the Sagrada Familia can also gaze in awe at, and check in on the progress of, the unfinished Roman Catholic church, designed by Catalan architect Antoni Gaudí, and under construction since 1882.
A destination for locals as well as guests, The Hoxton Poblenou is a reflection and extension of its 'barri', and as such offers rooftop bar and taqueria, Tope; ground-floor pizza restaurant Four Corners; as well as The Apartment and La Cave, a multifunctional basement space that will host local cultural programming and community events. Renowned for its lobby culture, The Hoxton's ground floor is a place where travellers and locals converge to work, play, plot, and find inspiration; the latter aided by a fine selection of independent magazines served up by the fine folk at News & Coffee.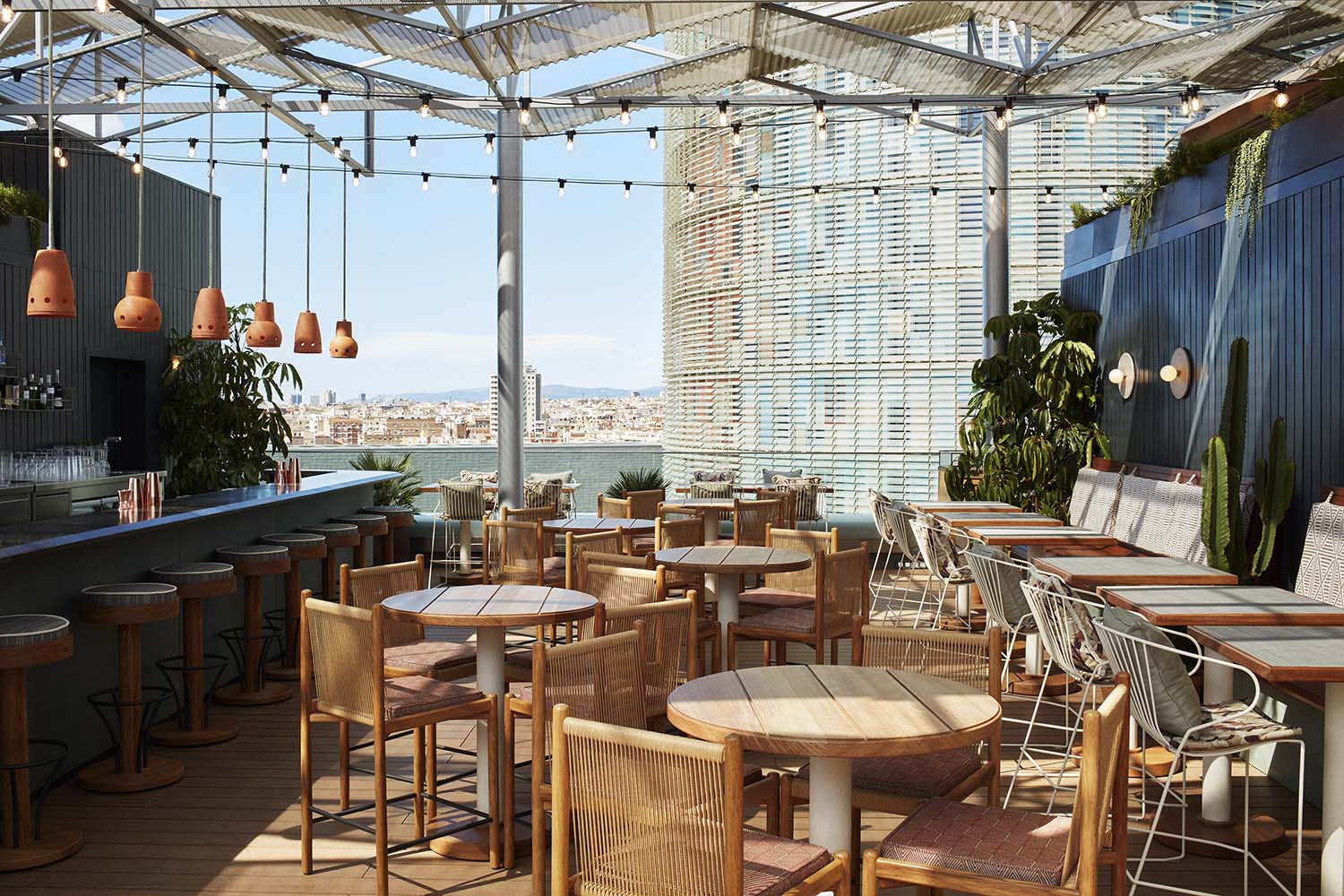 Whilst Tope serves up fresh guacamole, aguachile, tacos and frozen margaritas on the rooftop with imposing views across Barcelona, killer sunsets and an impressive pool flanked by cabanas, downstairs at Four Corners, Detroit-style pizza arrives in a city that has been saturated by the Neapolitan variety. A pizza restaurant, sun terrace, slice shop and bodega, Four Corners offers decadently deep-dish pies (and slices) overseen by New York-based pizzaiolo, Anthony Falco; the all-day eatery filled with those in search of their fresh-baked, thicker-than-thick pizza with crispy, cheesy crusts and toppings such as Mortadella and pistachio pesto, Soppressata with honey, and spicy pepperoni, all whipped up with a side of good vibes.
Located at the heart of Les Glòries, a transit hub that is undergoing a major transformation into one of Barcelona's most liveable and green neighbourhoods, The Hoxton Poblenou is a much-anticipated addition to the city's hospitality scene. An exciting new destination for locals, and a game-changing hotel for travellers to this international metropolis on the edge of the Mediterranean.
@thehoxtonhotel
@fourcorners.pizza
@tope_bcn
@newsandcoffee.eu
@johnbrownprojects