You're in a dark, seductive basement somewhere in Barcelona's old city. A dwarf urges you to swallow 'the blue pearl'. You do. And nothing's quite the same for the next few hours. It's a swirling, contorting, perplexing trip—the sort that language can't easily explain away. Pole-dancing and a gimp scaling the walls, sushi on a chess board. A haunting young girl with an ethereal voice seems to float through the room. Three hours pass. Carnal and hedonistic, it's a night whose origins lie in two cities united by times of unease.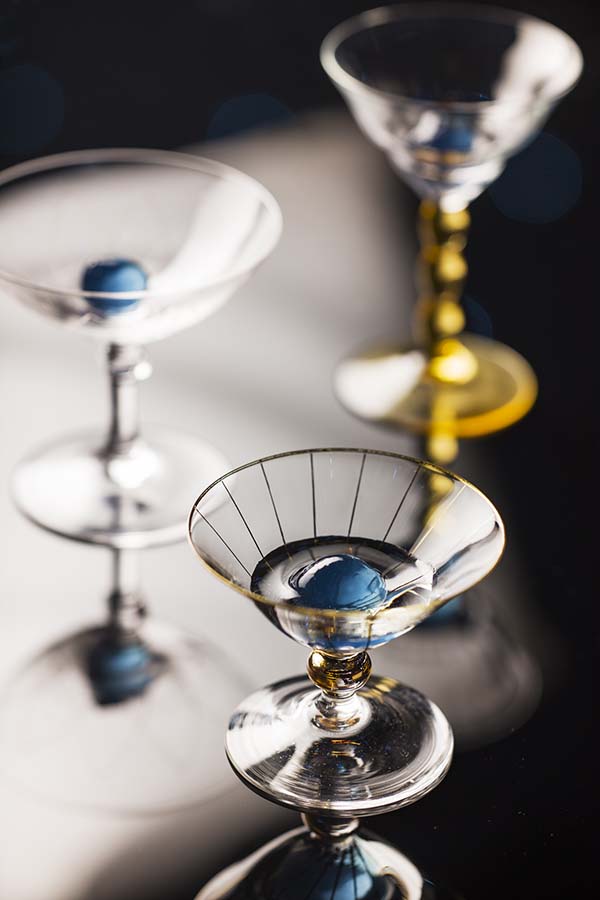 New York: the late 1970s. A city plagued by poverty and crime, an urban wasteland left to disrepair. Muggings, murders, riots, blackouts. Manchester: the early 1990s. Gang violence rising as rapidly as the stars of 'Madchester', gun crime having turned rave culture sour as rival gangs touted for the booming business in club drugs. Dubbed 'Britain's Bronx', the parallels were clear. But not just in misery. Countering the devastating socioeconomic effects of the textile industry abandoning the city, Manchester's creativity had been in rude health since the late '70s. Over the pond at a similar time, the influence of Warhol and his Factory had bled into the counterculture—a music scene comprised of anti-establishment art school students was rerouting the path of rock history.
Joy Division, The Smiths, Happy Mondays. Talking Heads, Velvet Underground, New York Dolls. And, alongside two similar scenes of post-punk rode new and exciting styles of dance music informed by all around them. A straight line can be drawn between pioneering New York DJs like Larry Levan and the acid house being spun by Mike Pickering at The Haçienda a decade later in Britain's bleak north west. New Order's dalliances with club culture would escalate after their time in the Big Apple in the early 1980s.
Back to Barcelona, though. And as the blue pearl's effects diminish, you make a short trip upstairs and open the weighty door to a hotel suite as show-stopping as our gimp's gymnastic contortions, as resplendent as the masked finale straight out of a louche Rothschilds banquet. There are luxury linens and walls clad in walnut panelling; custom scents and an expansive bathroom finished in fine grain marble. It's calm, understated luxury. But by God it is luxury. What exactly does this have to do with danger and despair?
In 1984, Ian Schrager and his business partner Steve Rubell opened a hotel on Madison Avenue, New York. Designed by the noted French interior and product designer Andrée Putman, Morgans—along with subsequent projects the Royalton and Paramount Hotel, both designed by Philippe Starck—would give birth to the term 'boutique hotel'. Three years prior the duo had been released from prison for tax evasion following a decadent four years as impresarios of the iconic Studio 54; the nightclub that carved the path Manchester's Haçienda would follow.
From Warhol to Mick Jagger, Bowie to Salvador Dalí, anyone who was anyone in those years would pass through its doors. It was the epicentre of 1970s hedonism. Soundtracked by pre-mainstream disco, trans women and eccentrics rubbed shoulders with icons of popular culture. It was sex and drugs and debauchery before that became a trope. Diana Ross and Liza Minnelli sang at a party held the night before Schrager and Rubell's sentences began.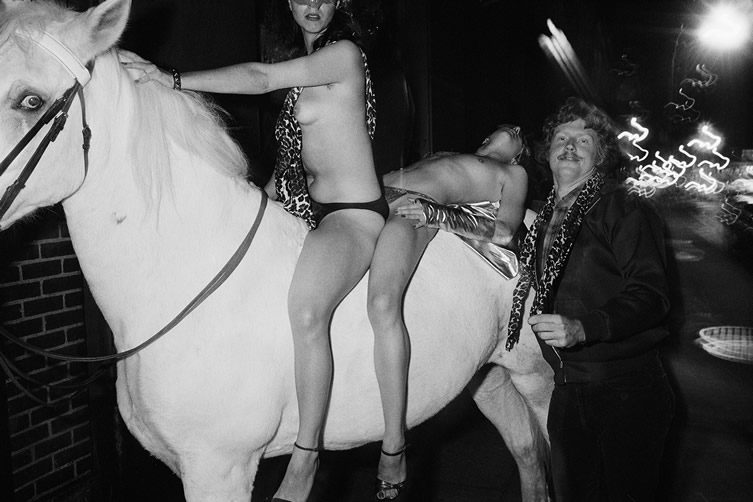 Today, Schrager is the creative mind behind EDITION Hotels, a collaboration with Marriott that is informed by the seismic shift the ex-Studio 54 man ushered into the hotel world in the 1980s, but one which seems a million miles from the decadence of the world's most infamous nightclub. It could be difficult to draw parallels between the New Yorker's work then and now—an EDITION might not have sex cubicles or a 'rubber room', and Bianca Jagger might not ride a white horse through its lobby—if it were not to experience his hotels first-hand. Which, finally, brings us back to Manchester.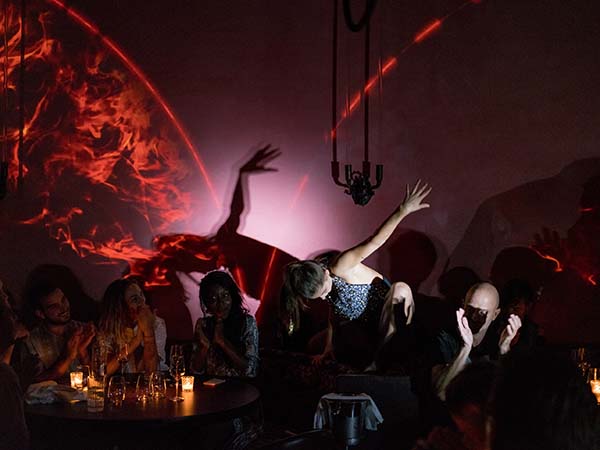 By 1994, the city's music scene, wanton nightlife, and gang violence had peaked. The atmosphere in clubs had turned—as a Mancunian would say—'moody'. Masters of hype, brothers Mike and Andy Mckay had seen their night Manumission fall foul to its own success. Whilst their tactic of making straight guys kiss each other to gain entry to the mixed gay club had initially kept gangsters at bay, the night's escalating notoriety meant that by the end even Manchester's most violent criminals were prepared to pass their audition. "One night this big ox of a bloke I'd had removed came back and bashed down the door," Andy remembers. "He picked me up and threw me down some stairs, then poured petrol over me. I knew then that Manumission in Manchester was over."
Manchester's loss would be Ibiza's gain, as Mike and Andy with partners Claire and Dawn (all of whom had by now adopted the surname Manumission) went on to draw more than 8,000 clubbers a night into their den of inequity. Mike and Claire became infamous for shagging on stage; Radio 1 DJ Lisa I'Anson got 'lost' during a live broadcast; after parties raged at a former brothel renamed the Manumission Motel; the Warhols and Bowies of the day came to be seen; The Daily Mail derided it as 'depraved'; and elaborate shows would involve everything from acrobats to lesbians, even Johnny Golden the Manumission dwarf beating up a hunchback. The same Manumission dwarf whose instructions we heed to swallow the 'blue pearl'.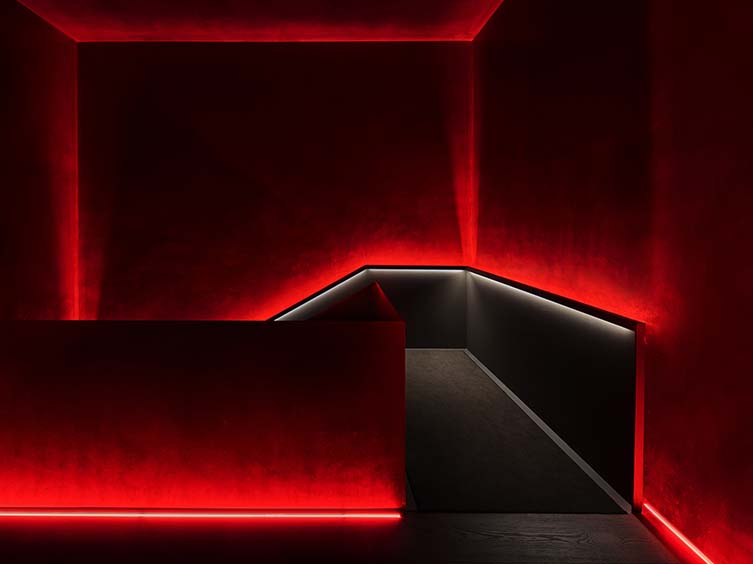 From disco to rave, Manumission was the 1990s Studio 54. All grown up, but with mischief still to be had, the minds behind two of time's most notorious bacchanals now operate side-by-side in a basement in Barcelona. Mike McKay and Claire Davies are reunited with their given surnames, as their 'space safari' Cabaret has launched into its debut season as The Barcelona EDITION's unique marriage of haute gastronomy, theatre, fashion, and sound.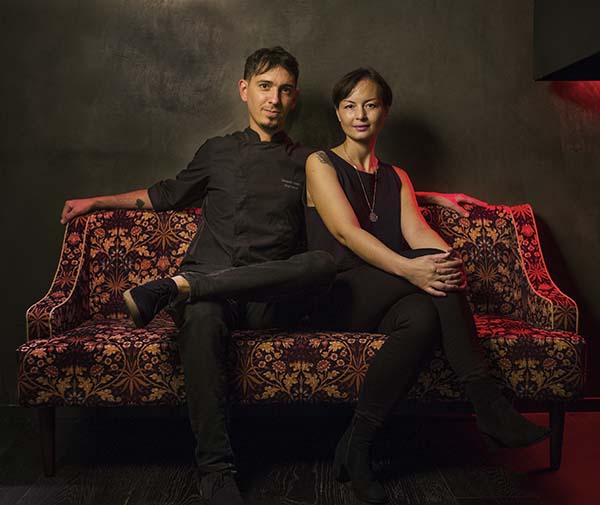 Difficult to draw parallels between the Schrager of old and the Schrager of today? As the cosmic cabaret unfolds, you begin to comprehend the essence he has brought to a luxury hotel chain with a very naughty undercurrent.
A six course monochromatic tasting menu carries us from that chess board of sushi through mushroom with toffee to a decadent dessert laced with chocolate and cauliflower. Helping to develop the concepts behind the the city's lauded Tickets, 41°, and Pakta restaurants, Sebastián Mazzola is the former creative director of the Adrià Group—here he riffs on his avant garde background without ever over-egging things, which must be difficult in surrounds that urge intense experimentation. Mazzola's partner Sussie Villarico—Barcelona's first female sake sommelier—has conceived the comprehensive wine list alongside Catalan sommelier David Amat, which spans classic wineries to boutique natural winemakers, Spanish sherries, and of course, Japanese sake.
It's testament to Mazzola's creativity and skill that Cabaret's culinary offering remains as ingrained on the memory as the controlled chaos of McKay and Davies's intergalactic odyssey. Collaborating with former head designer for prêt-à-porter at Gianfranco Ferré, Liborio Capizzi, on the show's costumes; multi-award-winning composer and regular Rankin collaborator, Mark Sayfritz, on the score; and choreographer Philippe Mesia; the show is a bombastic riot of seduction and style—mirroring its meticulous approach to outlandish ideas, Mazzola complements the contorting weirdness in flavour and flair.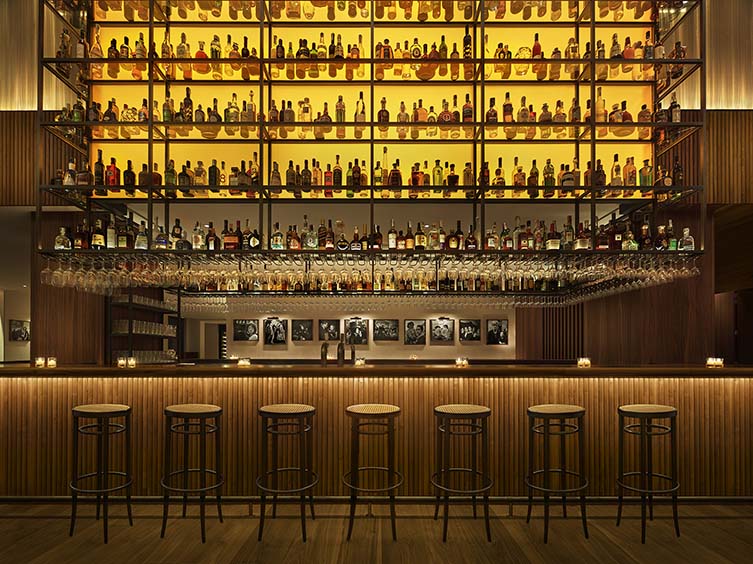 In less outré surrounds upstairs, Sebastián Mazzola also oversees the output of Bar Veraz—The Barcelona EDITION's more casual dining option where fresh pastas, catch-of-the-day, salads, and select tapas dishes offer a modern twist on classic Mediterranean specialties; all augmented by a wine list focussed on regionality with more than 30 wines from local vineyards. The informal eatery sits in a light space behind an impressive lobby bar dominated by a towering drinks stand backlit in signature EDITION hues; original artworks from revered Catalan photographic artists Joana Biarnes, Colita, Xavier Miserachs, and Oriol Maspons connect the contemporary space to the rich culture of its city.
Having already made its mark on Barcelona's in-the-knows, the Punch Room—complete with a mammoth Castilian style billiard table and accessed by a fairytale spiralling staircase—is an updated manifestation of The London EDITION's award-winning cocktail bar of the same name; and of course those bowls of artisanal punches remain the star attraction. Upstairs, 10th-floor indoor-outdoor bar and kitchen, The Roof, has already confirmed itself as the city's prime spot for after-work drinks, with panoramic views over the famous old city and out to the Mediterranean—DJs spin, drinks flow, and the abundance of flora that surrounds the rooftop pool gives the impression of partying in a sky-high garden.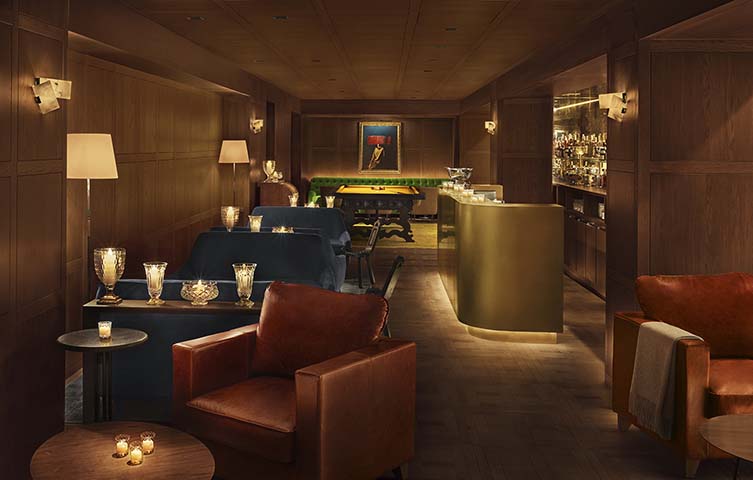 Next door to El Born's famous and historic Santa Caterina Market, the building itself has been completely overhauled by local architects Carlos Ferrater Studio. Geometric windows—in which Cabaret performers embodied the risqué heritage of Studio 54 and Manumission with provocative performances on the hotel's opening night (much to the bemusement of locals glued to their windows in the opposite buildings)—jut out from its façade. Inside, the much-lauded Spanish interior designer Lázaro Rosa-Violán has weaved the sort of magic observers of Schrager's EDITION brand will already be familiar with—that low-key but unmistakable luxury unfolding with seamless sophistication. Timeless statement pieces designed by Dalí and Gaudí further connect the hotel's quintessence with Catalan creativity and culture.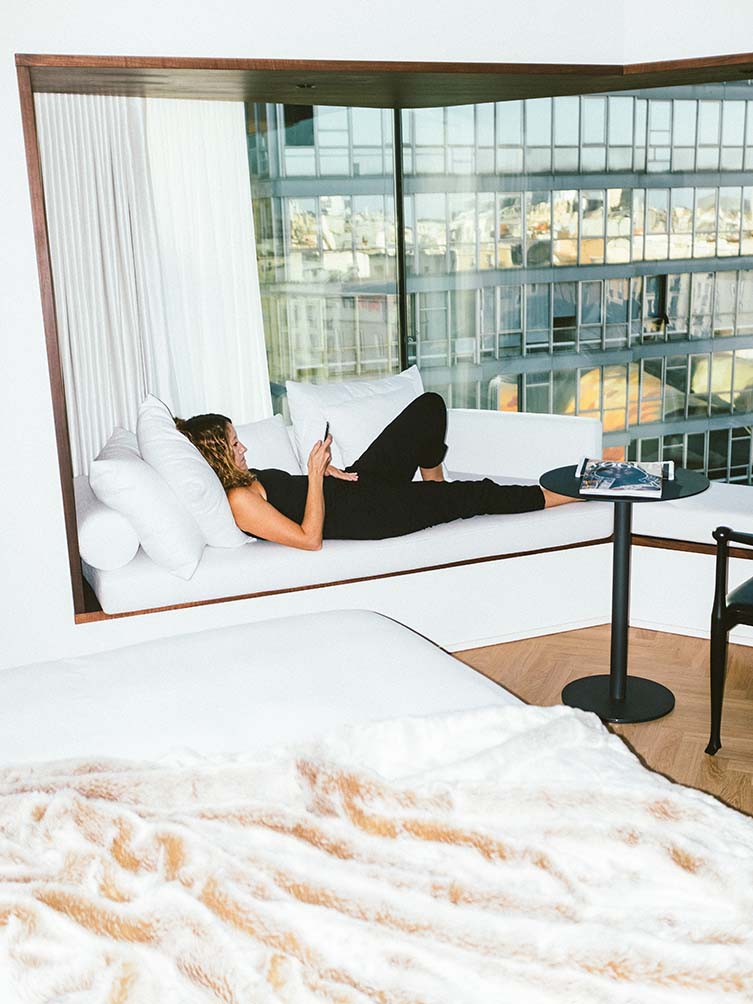 As we awaken in our 43 square metre Loft Suite, the effects of the blue pearl swirling in our subconscious, we pick the real, the fantasy, and the somewhere-in-between apart from a kind of double chaise lounge built into those jutting sculptural windows. The view over the market is spellbinding—its brightly-coloured rooftop mosaic designed by artist Toni Comella capping the undulating waves conceived by architects Benedetta Tagliabue and Enric Miralles. The densely-populated neighbourhood spills into view beyond. You needn't tear yourself away from the view for too long as you make it to an oversized marble soaking tub with beautiful golden taps, another window in the bathroom overlooking the same captivating vistas. An enclosed rainforest shower caters to those short on time, whilst custom-made Le Labo amenities ensure the spirit of New York is never far away.
Schrager insists that luxury is no longer for the elite, he sees EDITION as a kind of 'people's hotel' that caters to the local creative community as much as it does its guests. It's this open-armed appeal that has won over those who have packed its rooftop since the autumn opening, but it's the aura of Studio 54 and the Manumissions madcap inventiveness that makes The Barcelona EDITION such a special proposition—it's here that the New Yorker's past and present come together, where the essence of this unique hotel brand truly sing.
Decadence and pioneering gastronomy, rich in culture with an impeccable eye for design, there could have been no better city for this unison to be realised.