They're back. For their ever-expanding documentation of brutalist beauties, Blue Crow Media turn their attention to blue collar Boston; which is not just Massachusetts's capital and largest city, but one of the oldest in the United States.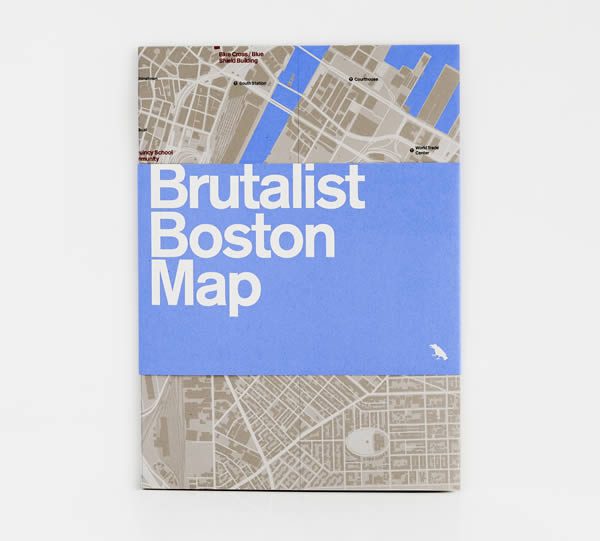 In collaboration with Chris Grimley, Michael Kubo, and Mark Pasnik, Brutalist Boston Map celebrates the continuing ascendency in popularity of what was once described as "piles of concrete" by know-it-all Charlie, the Prince of Wales; an unwelcome reputation also attributed to these concrete gems having been the style of choice for many a government project.
Highlighting more than 40 leading examples of brutalist architecture across the greater Boston area — examples like City Hall; Government Service Center; Marcel Breuer's Madison Park High School — the map is designed as both a reference guide and travel companion, as always including locations plotted on a detailed map and short text about the building on the reverse.
As concrete transformed Boston throughout the 1960s and 1970s, whole districts and vast infrastructural improvements appeared in a matter of years, reenergising its economy and symbolising its reformed political order under the banner of the 'New Boston'. It was around this time that Le Corbusier designed his only North American building (the Carpenter Center for the Visual Arts), located at at Harvard University it was never seen completed by the architect (declining an invitation to its opening due to deteriorating health), yet remains a fine example of the sort of progressive architecture the city enjoyed during this period.
Available at bookshops across the US, Europe, and UK — including locally in Boston at Le Corbusier's Carpenter Center for the Visual Arts; MIT Press Bookstore; and The Institute of Contemporary Art — Brutalist Boston Map retails at $10, 9€, and £8; and is also available to purchase through Blue Crow's website.