Despite its city centre location, a new Copenhagen restaurant carries a distinct air of the countryside, a lush greenhouse rising through two floors of its space and setting the tone for a veg-heavy bout of earthy Nordic cuisine.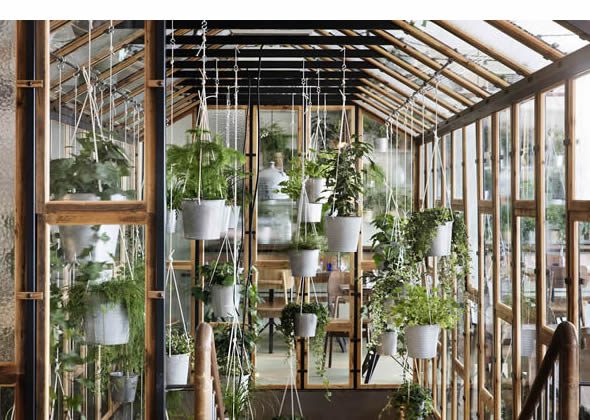 A member of the Cofoco family — a brand founded by Torben Klitbo (that includes star venues like Höst, and Italy) determined to alter the rigid attitudes towards what a visit at a restaurant should comprise — Väkst, serves up an informal menu under the direction of chef Jonas Christensen; whose focus is on the garden, without being outright vegetarian, rustling up plates that are informed by the greenery that surrounds the space.
On the top floor, plants, growths, and leaves thrive in the light from large windows facing the street of Sankt Peders Stræde — down in the basement, diners are reminded of their central locale. Designed in cooperation with Genbyg, the story of provenance is as important to the interiors as it is in the kitchen — where we've learnt to be mindful of the lives the animals we eat have led, here recycled materials have been chosen for their history … sustainability with a story.
Intimate and evocative, Väkst puts experience centre-stage whether that's on your plate or the rustic recycled wonderland you eat among; a circle of gastronomy where the surroundings enhance the food, the cuisine inspires the organic habitat. Beautiful.