Inside Newington Green's bakery-restaurant, Jolene, Jeremie Cometto-Lingenheim and David Gingell have teamed up with farmer Andy Cato to create a menu in which his grains will be used daily in everything from bread, pastries, and sausage rolls, to pasta, stews, and salad—all made from scratch and served amid simple and earthy interiors.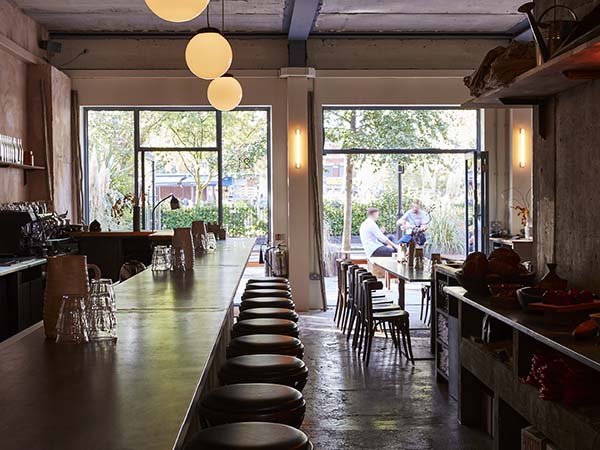 Opening at 9am throughout the week (except Mondays), and 9:30am on Saturday and Sundays, Jolene showcases a counter stacked with a variety of loaves, raisin bread, croissants, cinnamon buns, and French-inspired bakes—bakers using freshly-milled flours from Cato's farm Naroques in slow-fermented dough to produce the Naroques bread; providing the kind of highly nutritious, vitamin rich, digestible and delicious bread to set customers up for the day.
As with Cometto-Lingenheim and Gingell's other restaurants—Lower Holloway's Westerns Laundry and Primeur, Stoke Newington—a daily changing menu will be chalked up on a blackboard, offering simple dishes prepared using vegetables from Flourish farm in Cambridge, ethically-sourced fish from the day boats in Cornwall and Devon, and meat from a farming collective in North Yorkshire alongside smaller dishes; a daily stuffed pasta; desserts; and a stripped-back (in quantity not quality) wine selection.
"We have decided to open a bakery-restaurant that revolves around and relies on the grains rather than it just being another ingredient," explain Jeremie and David. "Our approach at Primeur and Westerns Laundry has always been attuned to the need for sourcing well-farmed produce ethically grown with soil fertility in mind and tended with care. We're bringing the same values and narrative to Jolene, this time with breads baked with Andy's incredible grains and inspired by his passion for sustainable, efficient, and sensical farming methods."
With photogenic interiors that err on the right side of ramshackle, and that familiar commitment to high quality produce and unfussy cooking, expect Newington Green's Jolene to be another big hit.