The first​ ​in​ ​a​ ​new​ ​series​ ​dedicated​ ​to the looks of​ ​public​ ​transport networks, Blue​ ​Crow​ ​Media's London​ ​Underground​ ​Architecture​ ​&​ ​Design​ ​Map provides a fascinating​ ​insight​ into the graphic and architectural design of the city's famous underground transport system; all documented on a ​two-sided​ ​cartographic​ ​guide that features a map of stations with ​corresponding​ ​photographs, details,​ and insiders tips.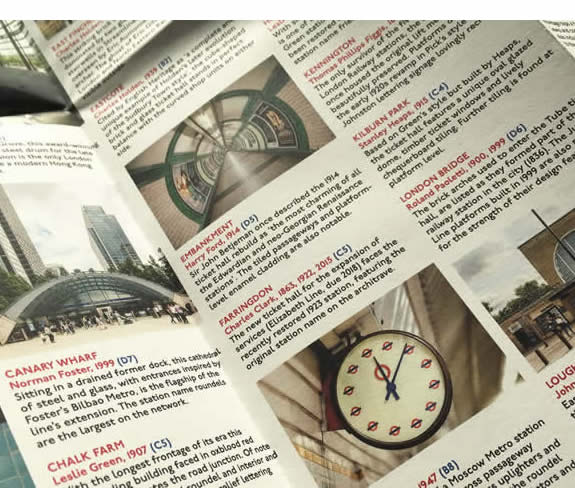 Honouring a choice selection of the most unique and ​influential​ ​examples​ ​of​ ​architecture​ ​and​ ​design across the network, the map includes work by ​architects​ Charles​ ​Holden, Stanley​ ​Heaps​, and Leslie Green — all best known for their design of iconic London Underground stations as early as the first decade of the 20th century — alongside contemporary stations from talents such as ​Norman​ ​Foster and Sir Richard​ ​MacCormac​, and revered interventions like Eduardo Paolozzi's Tottenham Court Road mural.
Serving as a lesson in history (learn about details like Johnston lettering, a sans-serif typeface commissioned in 1913 by Frank Pick for the London Underground) as well as a handy map and guide, the London​ ​Underground​ ​Architecture​ ​&​ ​Design​ ​Map by ​Mark​ ​Ovenden for Blue​ ​Crow​ ​Media is an enlightening addition to the publisher's expansive collection of design guides; celebrating London's vast transport history and iconic architecture alike. Mind the gap.