Known for her large scale bold and exuberant installations, London-based artist and designer Ikra Arshad was this year awarded the 2023 East Quay pod artist residency, the creative invited to live and work onsite for two weeks working with the community to help inform, design and create a transformative installation in Pod 5.
Located on the highest level of East Quay in Watchet, Somerset, Pod 5 is open to the public to stay in and among a joyful and serene installation set to spark curiosity and happiness to all that rest their heads there.
The minimalist approach includes pastel tones and contrasting monochrome geometric patterns to enhance the energy of the space; an orange inspired by the local Somerset clay mixed with pastel pink, purple, and green nods to the vibrant sunsets and moorland flora found in the local vicinity.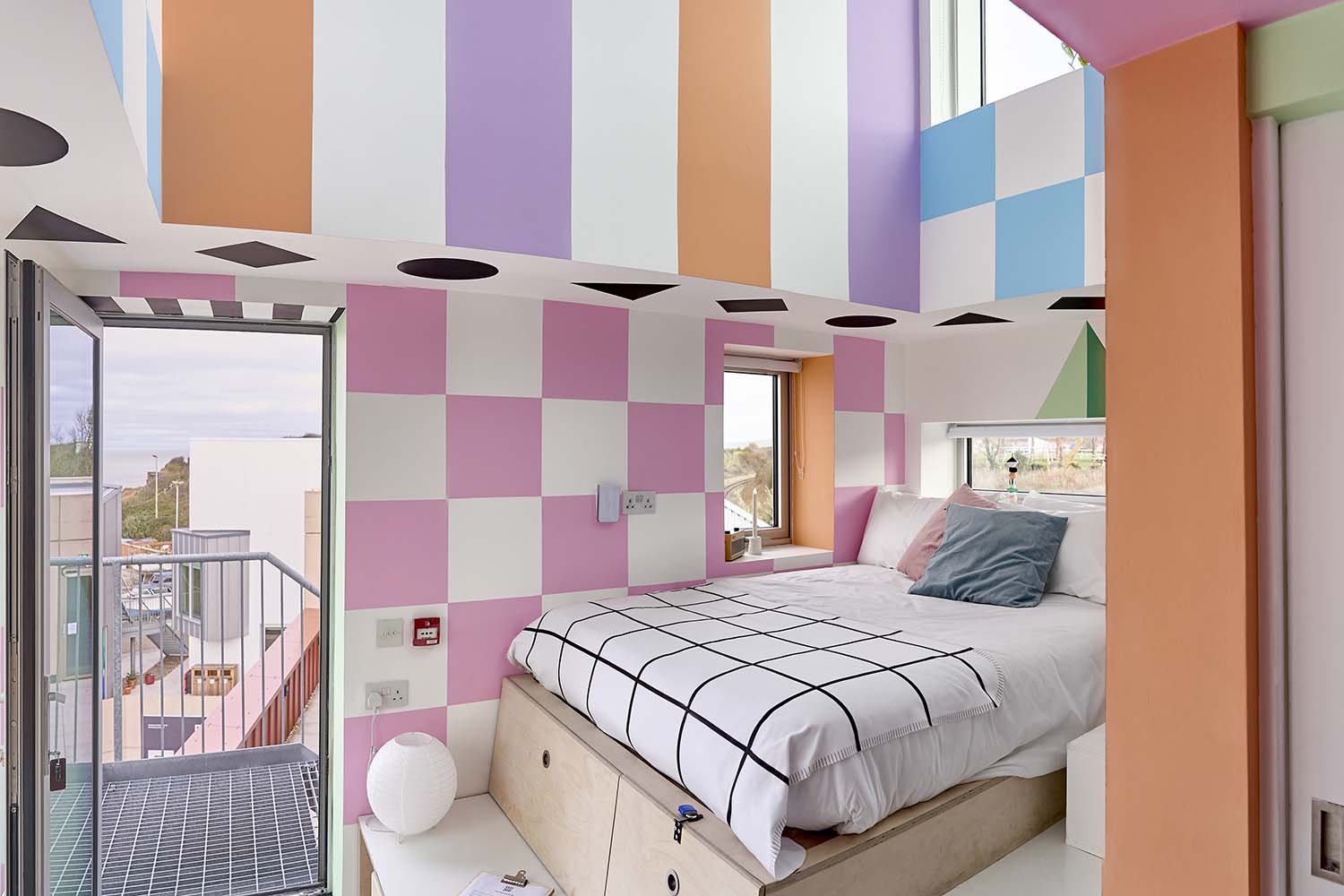 In the room, guests can disassemble the shelf objects to create their own stacking shape combinations, encouraging them to engage with the space. This design aspect was created following community sessions with the aim to create inspiration during immersive visits. Ikra also created an area within the mezzanine where guests and visitors are invited to take some time out of their stay to reflect and journal in The Dreaming Room. Through the use of optional journal prompts, guests can document their ideas on reimagining the future, discovering more ways to connect with their local community and bring these visions to life.
Seeking to complement the existing area's aesthetic and character as well as to engage with the local community in a positive, impactful way, in Pod 5, Arshad has created a playful place for reflection. "Drawing inspiration from the naturally occurring colour palette of contrasting colours that can be found within nature, as well as the symbolism behind ancient architecture as spaces of reflection, the artworks channel the synergy of architecture and nature combined," she explains. "Thus evoking feelings of joy, hope and positivity, increasing visitors' sense of wellbeing and connection with themselves and each other. As the sun rises and sets on the harbour, the mural and shelf objects will change and shift in its appearance, acting as a prominent sundial throughout the day whilst people experience the artworks. The immersive artworks will act as a creative intervention, sparking the viewer's curiosity and a fresh perspective of seeing the world."
An art installation to live among, inspiring connection and rooting visitors to its locality, Ikra Arshad's The Dreaming Room is a splendid example of how hospitality and art can coalesce.