Philip Colbert earned himself the sobriquet of 'godson of Andy Warhol' by Andre Leon Talley, years before he painted a body of work which he will soon show at one of London's most prestigious art spaces. On 2 October, during Frieze, Colbert will unveil the most exciting move in his pop universe yet: an inaugural solo show of his paintings at the esteemed Saatchi Gallery.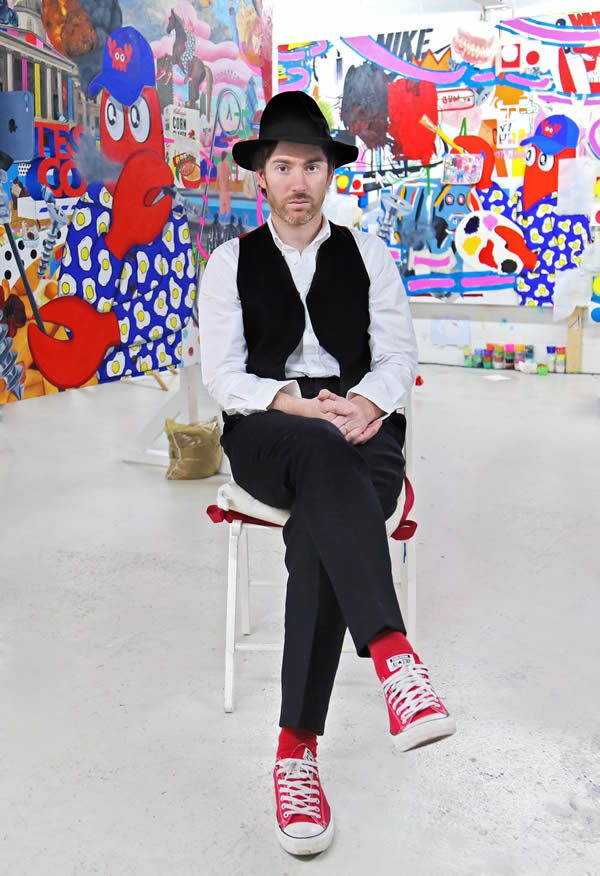 The softly-spoken art history enthusiast has long been in pop-training. He started a fashion label after graduating from St Andrews, whose alumni were William ("a sweet, unassuming guy trying to be 'normal', with a rock star entourage") and Kate. He moved to London after graduation and set-up Rodnik Band, his label in 2004. Without knowing anything about clothing, he "somehow made it work", teaching himself to design and pattern cut, infusing his collections with the most recognisable elements of his brand: parody and jest. "It all came from humour", he says by way of explanation, "which was my philosophical response to setting-up in a fashion world when I knew nothing about it."
In person Colbert's agreeable-yet-canny manner belies the more boisterous cultural identity has made Rodnik Band a go-to collaborator for power brands. Typically, the global giants have always gone to him. Disney; Rolex;, made.com; Smart Car; Absolut; and Snoopy, are among those who sought Philip's artful spin, fusing his own label's identity with their DNA. Colbert's hipster credentials were well and truly sealed when Cara Delevingne decided to appear in a campaign film for a cute capsule collection featuring Charlie Brown, Snoopy, Lucy Woodstock and the gang.
Snoopy, he says, has been one of his favourite partnerships, particularly his work with Rolex, whereby he customised watches. So far, so successful, for someone who 'didn't know what he was doing' when he started out, but thought he'd do whatever that was with a bit of whimsy.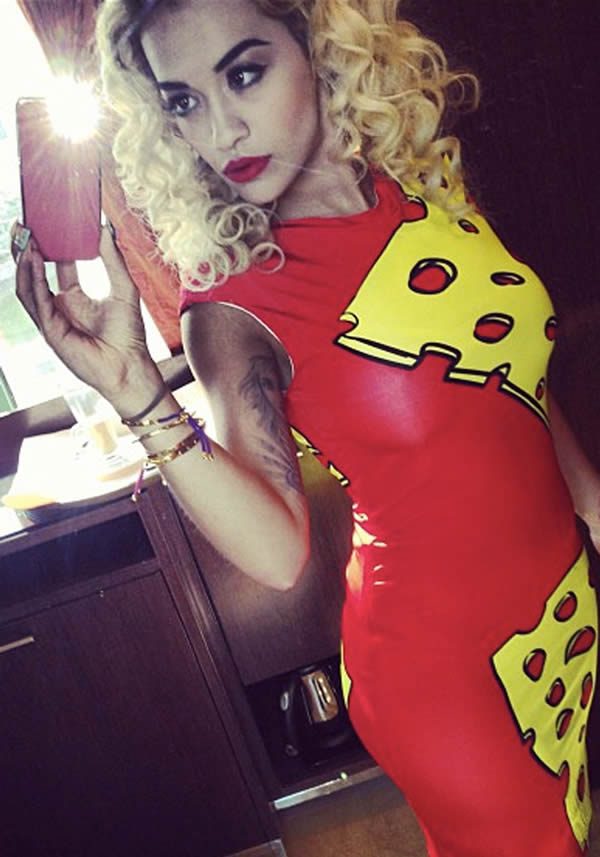 The emblems on which he's built the Rodnik Band have saturated through the eight two-metre murals being shown at Saatchi. Colbert's Lobster character appears at the centre of each narrative — typically wearing one of Philip's purposefully 'loud' suits, emblazoned with fried eggs, and a bemused expression. Conceived as a dialogue between himself and his pop forefathers, the paintings ruminate on their contributions in the face of popular culture and his own autobiographical journey through this landscape.
Rodnik Band has been referred to by Vogue Italia as 'a museum of wearable art'. Many-madcap fashion item has emerged from Duchamp-inspired urinal dresses and wearable art frocks; circa sequinned tins of Campbell's Soup and bejewelled fried eggs. If these were a joke then many famous glamorous names were in on it. Feted by Karl Lagerfeld and worn by the likes of Sienna Miller; Cara Delevingne; Anna Della Russo; and Lady Gaga, they have been sold in Collette in Paris, Dover Street Market and on Far Fetch. Rita Ora commissioned the would-be artist to design costumes for her 2013 world tour and a future collaboration with Kanye West has been mooted. Watch this space.
Directing collaborations and collections motored by the zeitgeist only fired Colbert's artistic trajectory, so its no surprise really that his inaugural solo show would be at Saatchi Gallery, a year after he decided to lay paint on canvas. "I always felt more like an artist than a designer anyway", he says. Colbert's explains that many of the symbolic references of art history have become as iconic in themselves as the Campbell's Soup can or the McDonald's sign.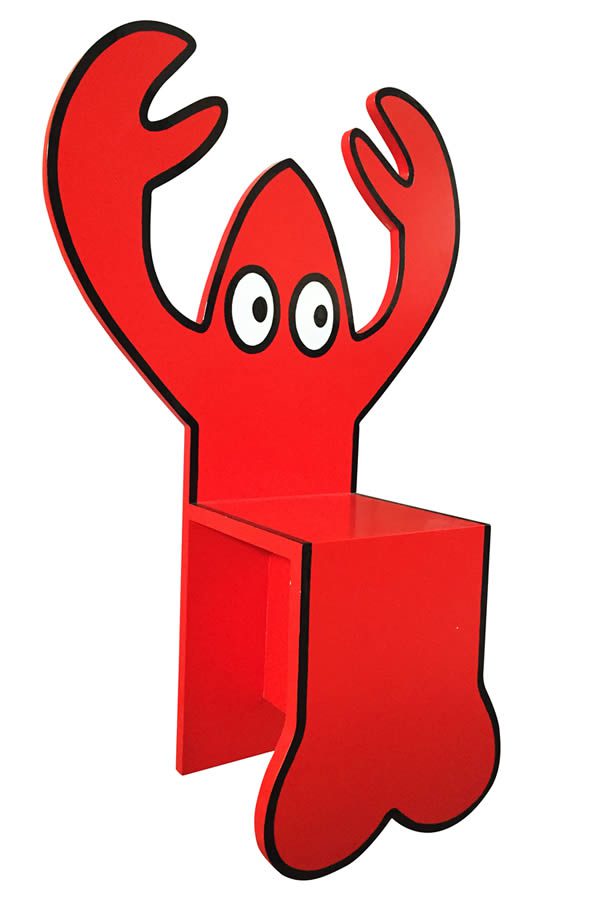 Colbert wanted to bring pop back to the realm of British painting by creating a dialogue with the movements' architects. In his brash, splashy world that bursts with contemporary culture, all the historical references of the pop are sewn into Colbert's lexicon alongside today's figures and motifs. Pop emblems jostle with surrealism and the pervasive fragments and figures of a modern Britain.
Colbert checklists a bingo card of Salvador Dali's lobster telephone: Lichtenstein's hot dog; David Hockney's swimming pool; Francis Bacon's distorted portraits; Man Ray's ball bearings; William Shakespeare with a pint in hand; and one of today's best-loved commentators, Grayson Perry, as his alter ego Claire. The murals throng with youthful energy but there is a darker subtext.
Colbert's world is witty, whimsical and ironic, yet these are dark times, so he plays as much to our fears as our hopes. Central to each composition is Colbert's symbolic lobster, who functions as Philip himself, as well as an anthropomorphic narrative device. The works are an explosion of painting styles and ideas, they present modem pop as narrated chaos. In the painting that clearly represents Britain, the lobster appears trussed-up in a suicide bomber vest. In another, the lobster floats in space, lost in a digital age, endlessly overwhelmed and overloaded with imagery. The lobster, presented with a world of brands, the threat of violence, Colbert interweaves discomfort into the colour madness.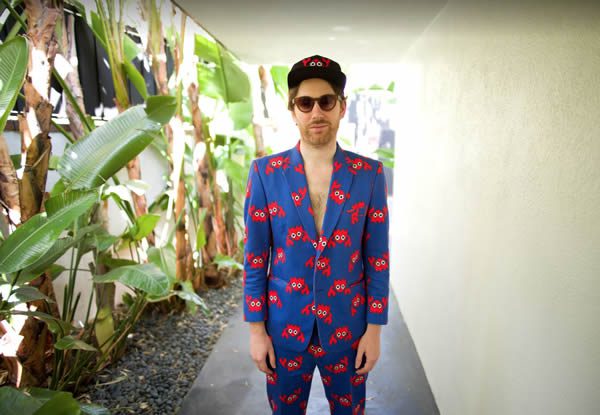 Colbert creates a kitchen scene of disruption, which takes its inspiration from Quentin Tarantino. The flailing lobster is under threat, his domestic peace disrupted by two sinister intruders. The lobster, says Colbert, is very much the narrator of the works — which allows him to be in conversation with the pop practitioners of the past. Not dissimilar to the approach of Rosenquist, who used surrealistic juxtapositions of products and insertion of politic messages, what is Colbert trying to tell us?
What is his survey of today's consumer culture? Are they crazy vignettes of Brexit Britain? One thing we are left with is that whatever Colbert's intention is, he rattles the cage but leaves it us to the viewer to connect the dots.
Philip Colbert presents his modern pop world at Saatchi Gallery in partnership with Gazelli Art House from 4 – 14 October 2007
@philipcolbert
@saatchi_gallery