Jessica Hess's is a style devoted to marking transient moments in urban life; the decay of abandoned and fragmenting buildings documented as in an act of adding permanence to their changing faces — as street artists, graffitists and vandals lend these modern ruins new identities as they fade into the landscape.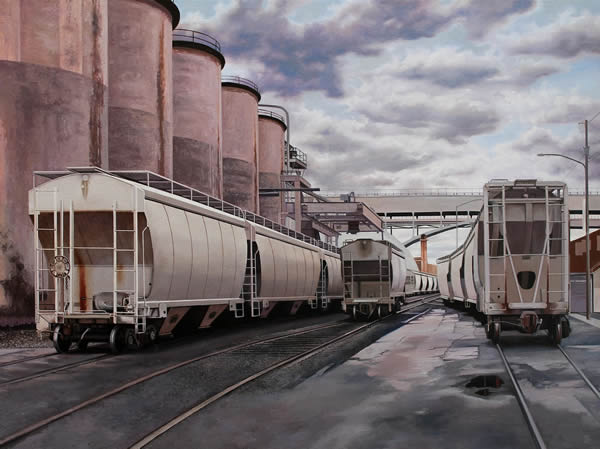 In her 2015 series, More Is More, the Oakland-based Rhode Island School of Design graduate gave prominence to the layers and layers these underground artists have applied to these contemporary landscapes of urban decay, introducing her own layers of abstraction into the photorealistic oil paintings. Here, two years on, the painterly abstractions remain, but Hess's subjects have been white-washed and buffed; her abandoned buildings boarded up or repainted.
In Less Is More, Hess's landscapes have moved a stage on — the winding down of Tyree Guyton's iconic Heidelberg Project in Detroit a symbol of times a-changin' in the lives of vacated structures; subdued moments that provoke contemplation, as the wheels turn on the cyclical nature of our built environments. Hess moves on with her abstraction, too, paintings rendered as if photographic collages, adding insight into the process between her source material and its final form.
Less Is More runs at Hashimoto Contemporary — 804 Sutter Street, San Francisco — between 31 August and 23 September.
@hashimotocontemporary
@jessicahessart