Hebru Brantley is an artist in demand. Informed by the AfriCOBRA art movement that began in his hometown of Chicago at the end of the 1960s, its founding members associated with America's Black Arts Movement, Brantley's work takes its cues from the street but has been found in top galleries around the world; his first museum show opening at Illinois' Elmhurst Art Museum soon.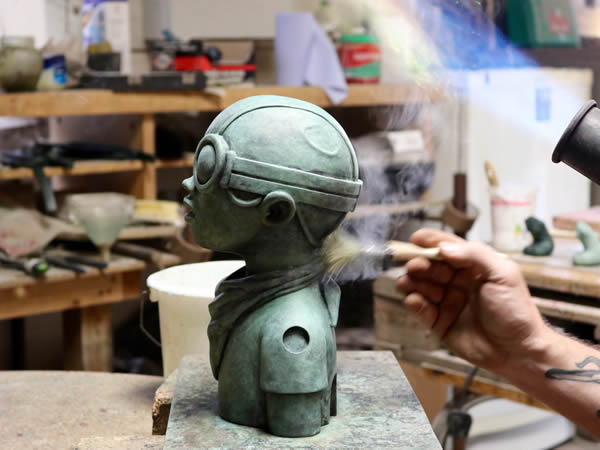 As well as leading curators, the artist's work has caught the eye of brands like Nike, Hublot and Adidas, and has been collected by a glut of high profile stars; including no less than hip hop power couple, Jay-Z and Beyonce. His is a narrative-driven, character-based style that fuses the 'black aesthetic' of AfriCOBRA's African American artists with contemporary pop culture and Pop Art motifs; honing an approach that is uniquely Hebru Brantley.
Having worked with media as diverse as wood, found objects, spray paint, coffee and tea, Brantley has collaborated over the past year with London-, Bristol-, and Barcelona-based Fluorescent Smogg — the editions and art show project founded by UK street artist Sickboy — on an ancient medium perfected by Renaissance artists like Donatello and Lorenzo Ghiberti: bronze.
Setting his iconic Flyboy character in this most noble of materials involved an initial sculpting by Brantley and Fluorescent Smogg, followed by casting by one of the world's leading fine art specialists; putting 3,000-year-old methods to use. "I am excited to finally be working within this medium," the Chicagoan explains. "I have created in several other mediums and have been working up to this point. Bronze is such a historically-respected medium in the art world that it is truly a unique experience to see my work in this way."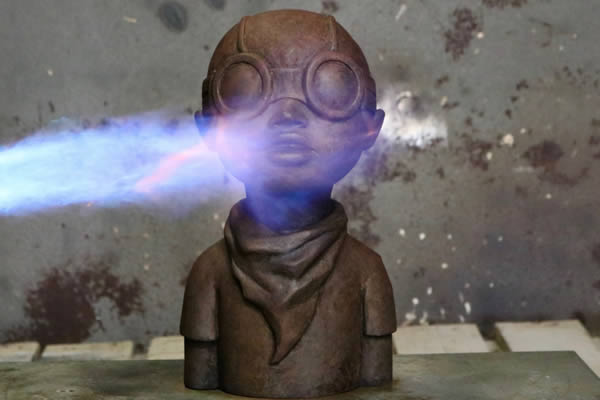 The result is three elegantly-finished editions in classic bronze, with gold and green patina versions — editions that will be celebrated with Fluorescent Smogg's renowned immoderation. Famed for putting on thrilling site-specific installations, Flyboy will take over Arch 402, Cremer Street, Shoreditch, this weekend for a groundbreaking, three-day immersive show; a 'world-renowned' grime star giving a never-before-seen synched music-art-light performance' at its private view on Thursday, and a special guest DJ bringing the house down at Saturday's closing ceremony.
Promising that has been meticulously-curated — from the singular venue's bricks and mortar, to plinth production and choreographed lighting — the immersive three-day experience runs from 17 — 19 August; further information can be found at flyboylondon.com
@hebrubrantley
@fluorescentsmogg
@3toneArt