Known throughout Europe for her iconic 2001 portrait of Queen Elizabeth II, as well as a longtime collaboration with musician Nick Cave (who she has been documenting for 35 years), Melbourne-born, US-based visual artist and photographer Polly Borland is presenting her first solo exhibition in Los Angeles; at the sprawling city's MIER Gallery.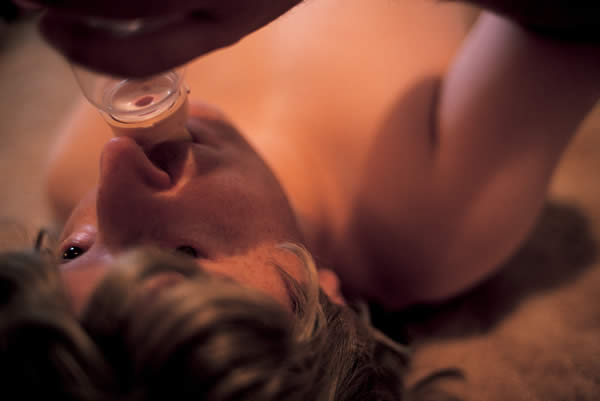 Set over two spaces at the contemporary gallery, the exhibition comprises two startling series of work: firstly, and most notably, Borland's powerful photographic study The Babies, an unforgettable insight into a little-seen world. Secondly, a collection of hand-knitted interpretations of that portrait of our 'Liz — woven by those staying at Her Majesty's pleasure; prisoners involved in an art rehabilitation program in the UK.
Demonstrating an unrivalled eye for contemporary portraiture and an ability to unsettle via the inner subjectivity of her audience, Borland's 'babies' are the result of the artist exploring the world of infantalists–adults who role-play as infants. Unsettling due to their lack of sexual reference, the images — originally shot for a body of work curated by Cave in 1999, and the subject of a powerHouse Books publication in 2000 — her subjects are captured wearing diapers, sporting dummies, donning oversized baby frocks, and wheeling each other around in prams.
It's a disquieting collection that is as difficult to view as it is compelling. 'They invite our identification … ' begins the late intellectual Susan Sontag in her foreword for the original book, 'daring us to admit that we too can imagine such feelings, even if we are astonished that some people actually go to the trouble, and assume the shame, of acting them out.'
The first time the series have been released in their entirety, The Babies is joined by a second body of work in Gallery Two: Tapestries, hand-stitched by inmates of Her Majesty's Prison Service; another collection informed by people who exist on the periphery of society. Polly Borland's double exhibition can be seen at Los Angeles's Mier Gallery until 17 August.