Irina Razumovskaya's backstory is somewhat impressive. Frequenting the Hermitage Museum from the age of five (to date), the prodigious Russian would begin evening art classes at the Kustodiev Art School aged just seven.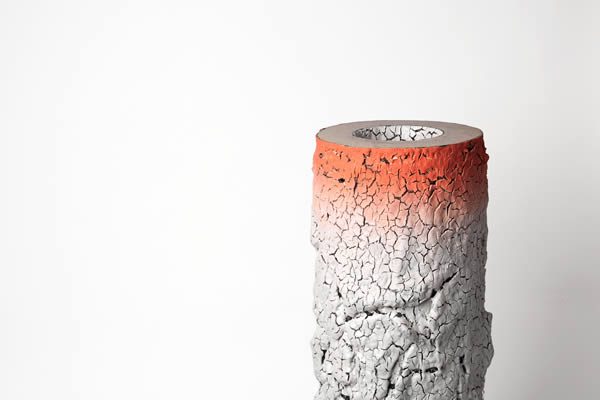 Already possessing a relationship with art considerably greater than most of her age, Irina Razumovskaya would go on to graduate from St Petersburg State Classical Gymnasium (where she studied ancient literature and languages); the State Academy of Art and Design; and most recently from the esteemed Royal College of Art with a Masters in ceramics and glass. Quite the qualifications.
'Clay is everlasting, poetic and eloquent material for me,' the Leningrad-born creative explains. 'Departing from its history and my classical education, I let myself work intuitively, using tacit knowledge and aesthetic preferences.' That intuitive approach is evident in the artist's latest design series, BARKSKIN.
Inspired by a 'wistful longing for the post-Soviet times' BARKSKIN evokes the former socialist state's decaying constructivist architecture by way of nature's own peeling layers; Razumovskaya fascinated by the poetry of the neglect for these once futuristic forms. Beginning with pure geometric shapes built of stoneware clay, then covered with multiple layers of glazes and slips — Irina ran the pieces through numerous firings, those layers starting to melt, peel and decay; the ageing process of these architectural monoliths mimicked.
Finished with a top layer of white porcelain and salmon-pink or yellow gradient to form an outer skin, the resulting ceramic pieces, are left open to interpretation; nature's shedding skin depicting man's own passing of time.