In what they say was a chance meeting of minds, Nicolas Rossi, Jean-Antoine Palagos and Marc Miró's shared passion for all things fashion, photography and style has resulted in a project so effortlessly assembled that it belies the concept of chance — this meeting of minds has to have been inevitable. The outcome is Wer-Haus, an incredible multi-disciplinary space in Barcelona's L'Eixample district that unfolds as you advance through its unfolding footprint.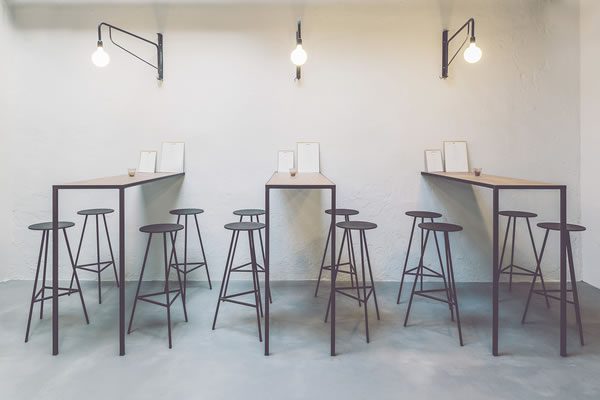 Enlisting the talents of local architectural studio LaBoqueria, interior designer Marta Peinado, and furniture-maker Cristian Herrera, the trio — two French, one Catalan — echo forward-thinking spaces from your Berlins, New Yorks, or Melbournes; transposing those capitals of cool to a retail-heavy neighbourhood oft-overlooked by denizens of design. A small outdoor seating space gives way to a white-washed gallery and art-bookstore which, in turn, gives way to an expansive café, all anchored by a bleeding-edge fashion store. It's impressive stuff — in a city deeply rooted in tradition, it all comes with a slap around the chops of contrast and distinction.
Artisan coffee comes from barista José María Martín, fresh from a stint at London indie café chain Fernandez & Wells, the gallery's debut exhibition is of photographer Antonio Xoubanova — whose work has graced pages as diverse as The New York Times and Dazed — whilst fashion (blokes only) is very very fashion; think Études Studio and Raf Simons. Brazilian/Portuguese chef Célio Strapazzolli delivers inventive treats that are fitting a concept store of this nature, and there are fancy Japanese craft beers. The truly impressive thing? It's all carried off without even the slightest whiff of pretension.
Unrivalled arbiters of taste Rossi, Antoine-Palagos and Miró may be, but their greatest achievement in this Barcelona assemblage is applying a little warmth to the notion of ice cool — Wer-Haus ends up being just another place you want to hang out. Fabulous. In every sense.