Down in the West Country, Mercure Bristol Grand Hotel has recently been the recipient of a contemporary street art-infused facelift courtesy of designer Ian Haigh's ever-expanding Central Design Studio.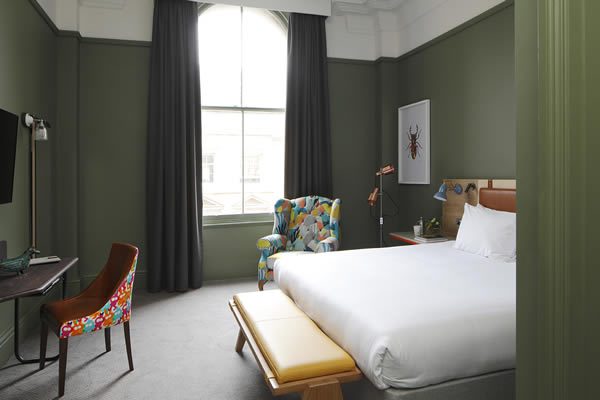 Taking inspiration from the hotel's proud heritage (the Mercure occupies a stunning Grade II-listed building in the heart of the city), Bristol's surrounding Victorian architecture, and the home of trip hop's renowned street-art scene, Haigh tell us that the new look Mercure Bristol Grand Hotel is: 'the result is a fresh lease of life for the locally renowned property, with a subversive creative streak combining to dramatic effect'.
A collaboration with Bristol-based gallery and urban street art festival, Upfest, means the hotel features over 500 pieces of art by local artists — including commissioned installations by Gemma Compton (known for her experiments with pattern, texture and symbolism), and illustrator and designer Cai Burton; whilst Jon Burgerman got busy bringing his signature doodles to the printed fabrics found in the guest rooms and public spaces.
Making the most of his interior design background, Haigh created a bespoke feature chandelier which proudly hangs in the hotel's lobby, and features handmade glass panels by artisan Jo Downs. With its distinctive new appearance, the 182-room property is quite the spot for art fans to get to grips with this thriving creative city.
@CentralDS
@MercureHotels
@Upfest