The Triangle, North Carolina, a region anchored by cities Durham, Raleigh and Chapel Hill, that takes its name from Research Triangle Park; a 1950s masterplan that created one of the world's largest research parks. It is now more commonly known as a region, and a thriving one at that — Durham, particularly, undergoing a recent renaissance.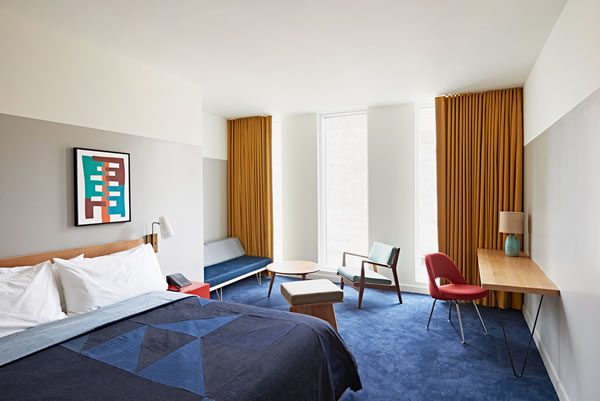 And every good renaissance needs its cultural hub. Enter: The Durham Hotel. For the Durham to be a cultural hub is exactly what developers Daniel Robinson and Brad Wiese of The Gentian Group are hoping for, and roping in L.A.'s Commune (Ace Hotel Downtown Los Angeles, American Trade Hotel) is a hell of a way to start — the designers sticking to the mid-century styling of the incredible former Home Savings Bank.
It doesn't stop there — The Durham bringing in a newsstand stocked with indie mags; vinyl from local store Merge Records; artisan room amenities; 'personalised morning coffee program' courtesy of the city's renowned bean freaks Counter Culture Coffee. James Beard Award-winning chef Andrea Reusing heads up the bar and restaurant, taking cues from from Mark Twain's A Tramp Abroad; the iconic author's salute to the simple American flavours he missed whilst travelling Europe. To that end, expect lip-smacking business like Louisiana soft-shelled shrimp, or Carolina Coast striped mullet.
Add to all that a rooftop bar; cocktails; morning yoga; oyster roasts; movie nights; raw bar … you get the picture: cultural hub. But really, the star of the show, the pièce de résistance, its magnum opus — those colours, those colour-blocked graphical hues. Shine a light to North Carolina, The Durham Hotel has arrived.