The first of its kind for Margate, Fort Road Hotel will open 1 September and represents a pioneering venture from Frieze co-founder Matthew Slotover OBE, artist Tom Gidley, and private residential developer Gabriel Chipperfield.
Occupying a majestic building on Margate's iconic seafront, the 14-room property offers "the modern traveller a reinterpretation of the traditional hotel that provides a unique experience rooted in design, art, architecture and food."
A landmark building of historical significance to Margate, the property was bought at auction four years ago rather worse for wear. In collaboration with Fleet Architects, the three partners rebuilt and reimagined the property from the basement up, adding a top floor and terrace that will provide guests with 360° panoramic views of the Margate seascape, surrounding town and beyond.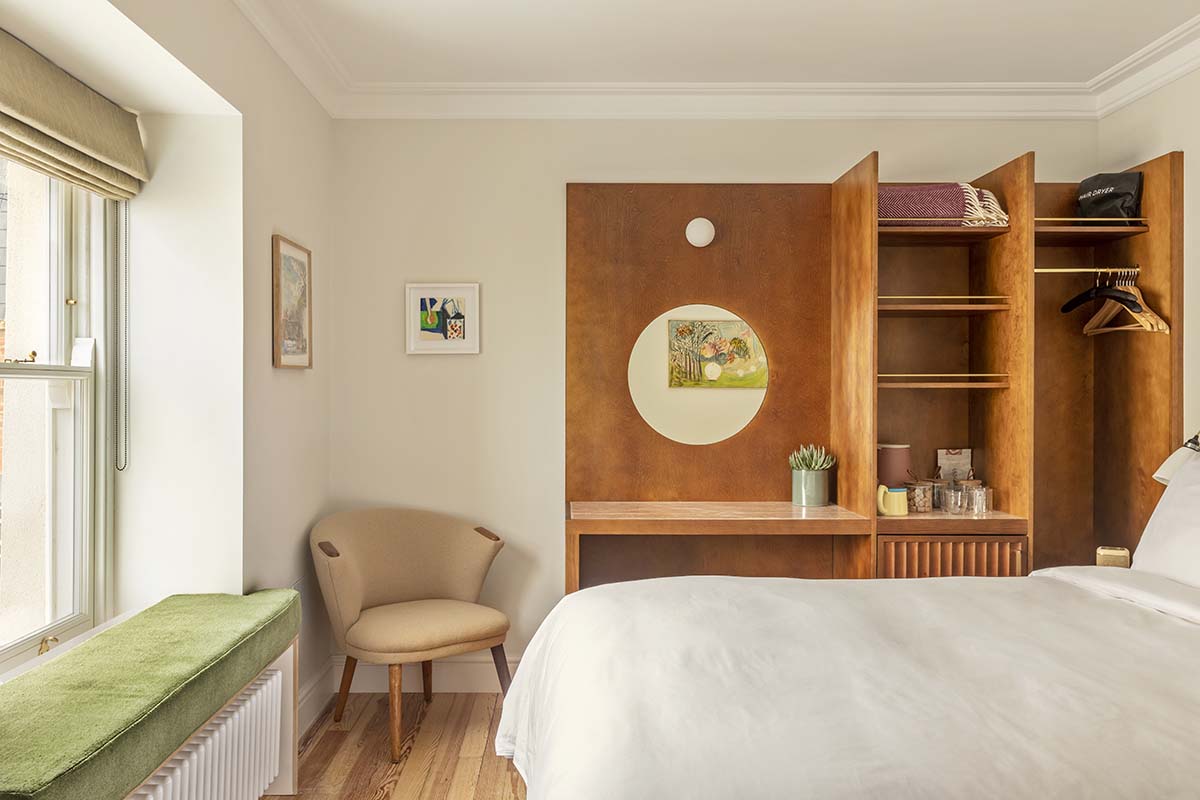 Distinguishing colour schemes, carefully selected artworks and period furniture grace every part of the hotel, completed by quality beds made from natural fibres, handmade linen curtains, vintage artworks, books, and bespoke wood and marble vanity units, up in the guest bedrooms.
The new top floor is home to four rooms, each architecturally distinct and featuring high ceilings, oversized sliding windows, full length Kvadrat felt curtains and a selection of high quality mid century furniture. From here guests can reach the Roof Terrace, via a glazed roof lantern, to watch the renowned Margate sunsets that painter J.M.W. Turner once declared as "the loveliest in Europe".
Speaking of Turner, art is important and prominent throughout Fort Road Hotel with artworks by contemporary artists with close connections to Margate including Tracey Emin, Lindsey Mendick, Hannah Lees, and a specially commissioned mural by Sophie Von Hellermann. 20th century abstract and figurative works are combined throughout the rooms in a range of mediums including oil painting, gouaches, watercolours and prints, the works gathered by Tom Gidley over the last couple of years.
Head chef, Daisy Cecil, is at the helm of the hotel's 35-cover ground floor restaurant that will offer seasonal home-cooking with a focus on quality ingredients sourced from local suppliers. Chef residencies, collaborations and workshops with local foragers and micro-producers, will bring a constant source of inspiration to the kitchen, enticing locals as much as the hotel guests.
A stone's throw from the beach, old town and the Turner Contemporary, with fantastic sea views to boot, Fort Road Hotel combines the ease of home with contemporary luxury and oodles of arty flair for which this seaside town has become synomynous.