Building community through food, Dig Inn seek to form relationships with suppliers and diners by sharing good, honest food around their table. 'Make decisions with tomorrow in mind,' runs their motto, a mantra rooted in minimal impact on terra firma and eating foods that are not just good for you, but the environment and growing communities too.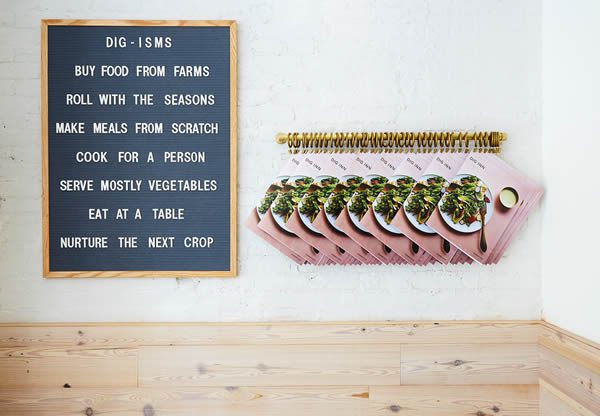 The wholesome brand has over ten eateries throughout New York, one in Rye Brook and now one in Boston (with another two set to open soon); their conscientious ethos certainly seeming to work. Dig Inn's chefs know their way around creating an inspiring dish, too, preparing food from scratch, choosing seasonal produce, and celebrating simple pleasures.
Dig Inn have commissioned ASH NYC to create the interiors for the inaugural Boston location, who in turn looked to the casual chain's other properties, reinterpreting their interiors whilst establishing a classic yet relevant aesthetic that will act as a blueprint for forthcoming openings. Using peachy-pink as a dominating colour, ASH NYC then set about creating a custom suite of furniture, surfaces, millwork, and signage — using warm grey, natural oak, steel, and white marble to bring the cohesive look together.
Open from breakfast through to dinner, and with dishes like kale with dates and granola; golden beets with quinoa and orange; and simple grilled steak, Dig Inn can fuel you day through night with minimal impact on the world around you. Good food, indeed.