A traditionally working-class neighbourhood, Fishtown (named due to its role as the centre of the Delaware River's fishing industry), has been undergoing a creative renaissance over recent years — culinary, artistic, and musical venues transforming the once edgy 'hood; as is de rigueur in cities around the world.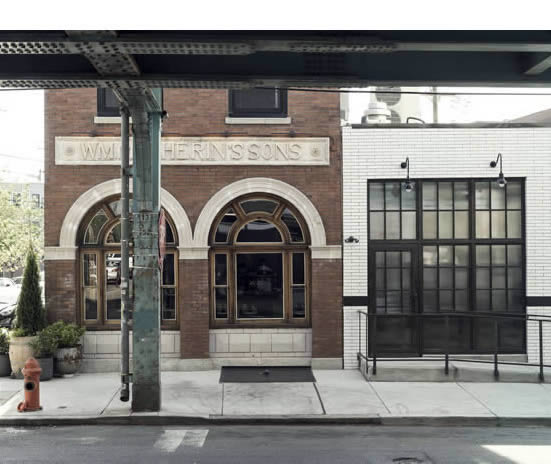 Recently opening among the herd of hipness is Wm. Mulherin's Sons, a restaurant and (forthcoming) hotel focussing on Italian-influenced, wood-fired cuisine, in casual surrounds set over three rooms: bar, dining room with concrete fireplace, and dining room with open kitchen. Chef Chris Painter, formerly of Il Pittore in Philadelphia's Rittenhouse Square, has created a seasonally-driven menu and instilled the expertise of Pitruco Pizza's Jonah Fliegelman and Nathan Winkler-Rhoades to work on the speciality pizza programme.
Retaining the name of the original 1890s family-owned business, Mulherin's has respected the building's original era — restoring elements like the terra-cotta exterior signs, arched windows, vestibule, and interior millwork; calling upon local makers throughout the process. Mosaic floor tiling adds further character to the former whiskey-blending and -bottling factory.
The hotel, set to open above the restaurant later on in the year, will feature four individually designed rooms; spacious yet homely, with a continued focus on honouring the designs of time gone by.