Proverbial tanks refuelled, we clocked up more mileage on our Mazda Think Differently road trip this weekend – switching to our CX-5 and setting the compact SUV's satellite-navigated sights on the North East. Sitting on the southern bank of the River Tyne; Gateshead is a town of just 78,400 yet boasts some of the country's most famous architecture and public art. The surprising cultural rebirth of Newcastle's little brother began at the turn of the 21st century – four years' work on Antony Gormley's iconic Angel of the North finishing up in 1998. It's inevitably the first stop on our micro-tour of Tyneside culture, Gormley's behemoth dominating the skyline as you approach Gateshead on the A1. Improbably colossal and strangely emotive, the 66 ft steel sculpture is as powerful a piece of public art as you may ever see.
A short drive into town brings you to the Quayside's 'big three'. Rubbing modernism right in Newcastle's face, the BALTIC Centre for Contemporary Art, Gateshead Millennium Bridge and Norman Foster's The Sage sit provocatively on the banks of the Tyne. Designed by architects Wilkinson Eyre, who won the Stirling Prize for their efforts, the Millennium Bridge is an impressive piece of design and engineering – tilting several times daily to allow river traffic through, this action is an impressive process to behold. Locals are quite rightly proud of their bridge, one of its workers defiantly informing me that it's "nothing to do with Newcastle" – however fellow Geordies from north of the river should be equally enthusiastic, the tilt bridge providing direct access to another of Gateshead's cultural gems; if Gormley's icon is the Angel of the North, BALTIC Centre for Contemporary Art is surely Tate Modern of the North.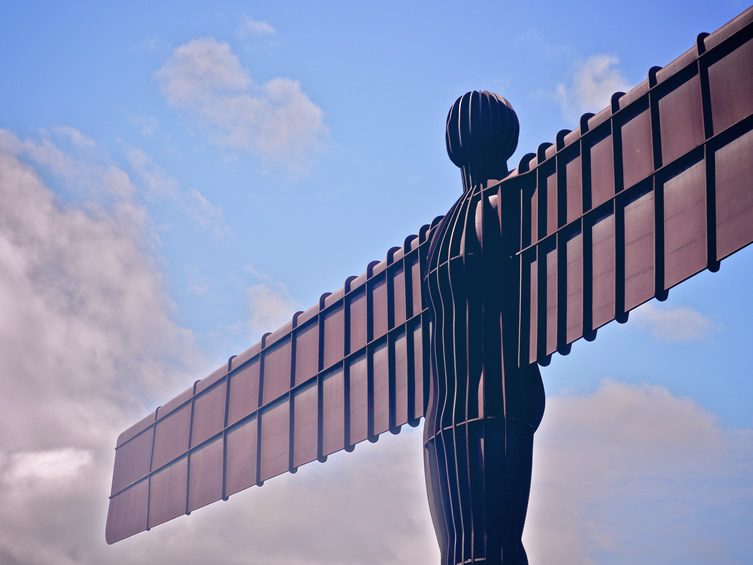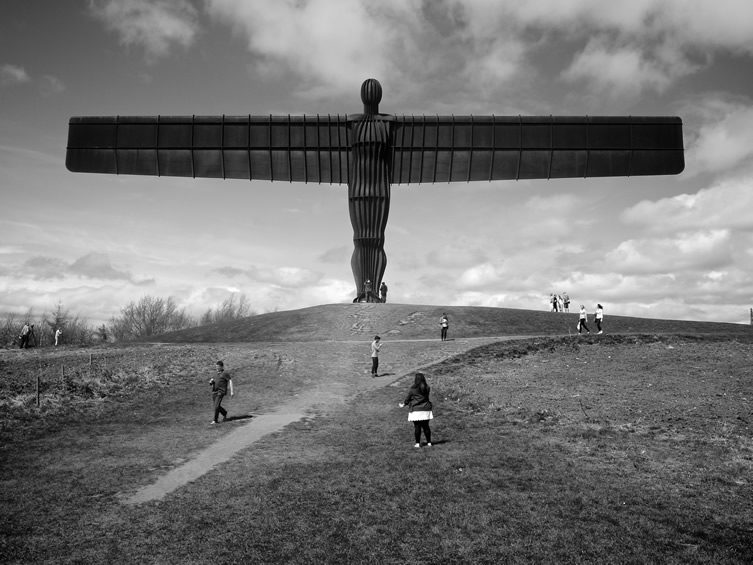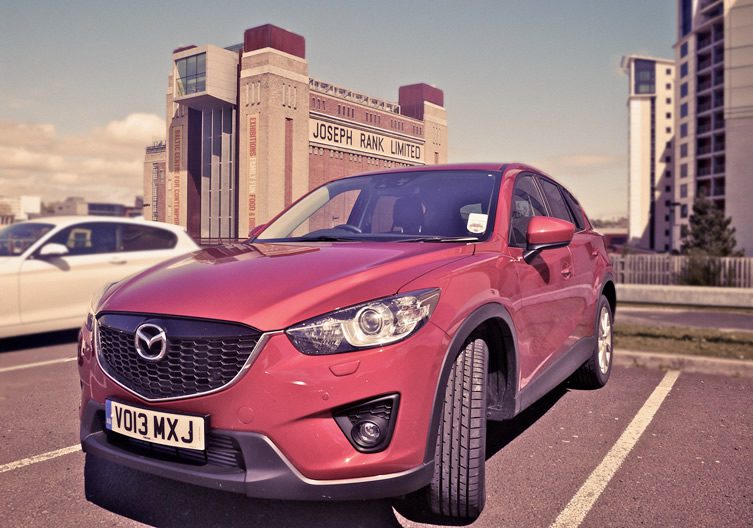 Work from Fabrice Hyber and Marcin Maciejowski are the pick of the four major exhibitions currently showing at the gallery that confirmed itself as one of the UK's most important by hosting, and attracting (in 149,000) more than any of its previous exhibitions, the Turner Prize in 2011. Fabrice Hyber's Raw Materials invites visitors into a 'mental spa', and proves that the democratising of art is alive and well in the North East – kids bounding around the French artist's interactive exhibition, there's no art snobbery to be had here. Exhibitions from David Maljkovic and David Jablonowski are almost as immersive, but it's 25 paintings from Marcin Maciejowski that really charm us – the Polish artist transforming widely circulated images into pop art masterpieces via his loose, realist style.
Like its Southern companion Tate Modern, BALTIC is not just to be enjoyed from the white cubes of the galleries. Completed in 1950, the Baltic Flour Mill shares a similar heritage to the former Bankside Power Station that now houses Herzog & de Meuron's converted icon – opening just two years later, EllisWilliams Architects conversion of Gateshead's flour mill may not be as grand, but it's easily Britain's most imposing art gallery outside the capital.
Completing the Gateshead Quays' trinity of modern cultural landmarks, The Sage Gateshead is a bulbous concert hall courtesy of perhaps the world's most famous architecture studio. Foster + Partners may not have built a landmark as tastefully prepossessing as 30 St Mary Axe (aka The Gherkin), but The Sage sure does provide talking point for Gateshead's skyline. Working considerably better from a distance, the city of Newcastle's citizens benefit mostly from Norman Foster's glass and steel leviathan, but architecture that divides opinion should always be held in high regard – pity those who demolished the town's Rodney Gordon-designed brutalist icon Trinity Square didn't agree.
Our day on Tyneside nearly over, it's time to head back to our CX-5 for a drive that allows us to reflect on the surprising design-led prowess of such a small town. Like Gateshead, our Mazda is a well-designed gem punching above its weight; No.1 Off Roader/SUV in the Auto Express Driver Power Survey 2013, along with FIFTH place in their top 100 cars – the CX-5 may not be the first name off the public's lips, but as its roll call of accolades grows it soon may well be.
***