With 60 design-packed, fully furnished apartments housed set within a 25-storey building in Midtown Village, Philadelphia, ROOST East Market—the third and largest property to date for owners Method Co., the team behind Fishtown's ravishingly handsome Wm. Mulherin's Sons—provides an eclectic mix of one- and two-bedroomed boltholes in one of the blue collar city's most idiosyncratic neighbourhoods.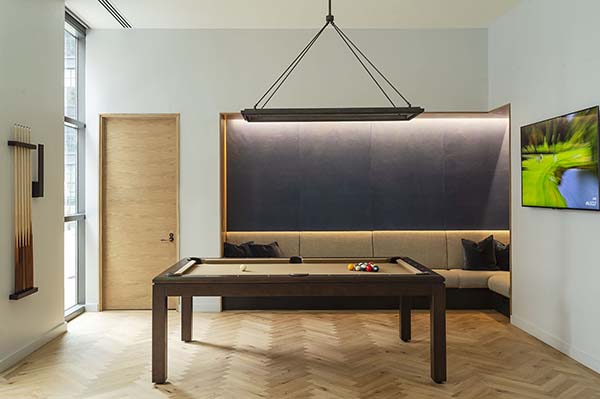 As with ROOSTs in Midtown and Rittenhouse, ROOST East Market boasts fully equipped kitchens, contemporary furnishings, antique elements, custom lighting, and unique artwork—interior designers Morris Adjmi Architects (who also oversaw the architectural design) conceiving the apartments and public spaces with a sense of place and purpose; creating the perfect welcoming environment for extended-stay travellers.
Permeated with a natural colour palette, rooms combine old and new design with a curation of custom pieces fused with collected vintage and classic modern designs alongside mid-century details such as wicker materials and antique Persian rugs. Partnering with a host of collaborators to further enhance the guest experience, travellers at ROOST East Market can enjoy a diverse range of amenities including a ground floor lobby with a living wall; a 20,000 square foot level with landscaped terraces; community vegetable gardens and grills; a 20 metre heated lap pool; and fitness room. All alongside the 'standard' ROOST offerings that include a coffee concierge and artisanal coffee programme curated by La Colombe; a ROOST cocktail kit; bike sharing; and resident receptions with local vendors.
Whether potential ROOSTers are checking in for a week, a month or way beyond, for those making ROOST East Market their home in the City of Brotherly love, your only regret may be missing the countless cultural and gastronomic offerings on your doorstep for want of staying put in your design-minded home-from-home.
@myroost
@morrisadjmiarchitects