A metal shutter hints as to what may lie ahead. Green lettering that spells 'El Pastór'; red and green paint either side a knowing nod to the flag waved by the culinary offerings behind it. Occupying a largely industrial setting beneath the railway arches of London Bridge, that shutter rolls up at 12pm six days a week to reveal another addition to London's thriving taco scene.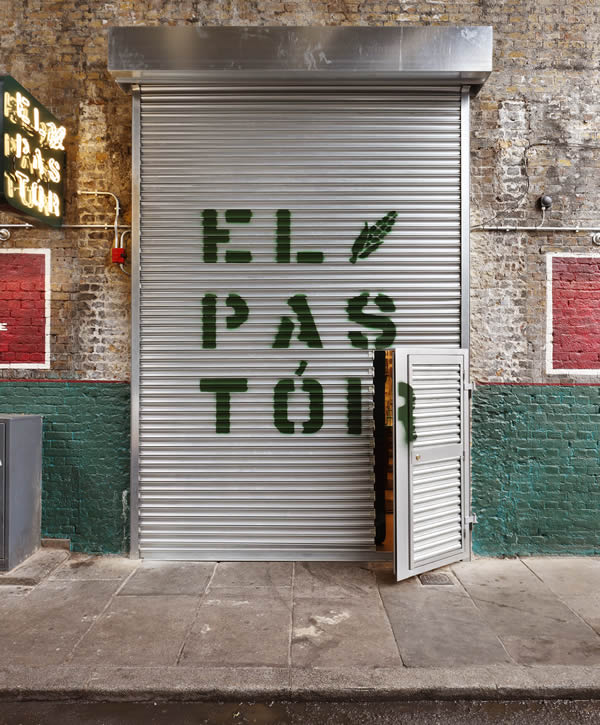 It's a narrow footprint for the space that lies ahead — clad with corrugated metal and exposed brick, but with a distinct sense of Mexican spirit and vibrancy; splashes of vibrant colour, playful neon and string-lighting bringing buoyant life to the industrial space with a big heart. London-based architectural firm Michaelis Boyd are responsible for the aesthetics here at El Pastór, deciding on the decor after a trip to Mexico City. Inspired by local food markets, they created a 'mezcaleria' using emerald green conglomerate marble and shelving to store fruits and glass bottles; as per the hectic markets of Mexico.
The latest restaurant from the Hart Brothers, (those behind Fino and Barrafina), along with friend Crispin Somerville — who ran a seminal mid-1990s jazz and underground house club in Mexico City — the new Borough Market taqueria pays homage to the famed 'al pastor' taco; their house-made tortillas filled with 24-hour marinated pork shoulder, caramelised pineapple, guacamole taquero, white onion and coriander. It's a bold punch of flavour evenly proportioned by Michaelis Boyd's high-spirited ode to the feverish streets of Mexico City.
@tacos_el_pastor
@michaelisboyd