Breddos Tacos is going to be, if it isn't already, known as that great little taco place in Clerkenwell. After several years on the street-food scene, owners Nud Dud and Chris Whitney finally found their new 'forever' home; which is tipped to stand the test of London restaurant time.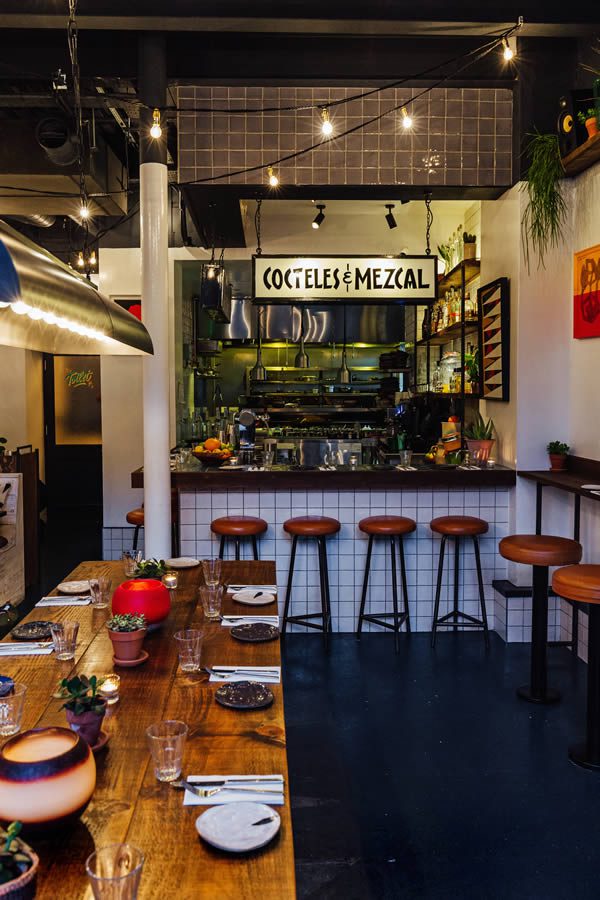 For starters, Breddos' great big welcome has you at 'come in!' It's like a hug from a pal and you're instantly made to feel at home. While the welcome is big, in contrast, the dining space is curious and cosy. Ennismore Design Studio is responsible for the interiors in collaboration with various creative bods; walls are covered in Pop-esque vintage paraphernalia curated by Alex Green; a large geometric painting by Caroline Derveaux and bold typographic signage by Ged Palmer all come together to deliver a vibrantly discordant Latino-inspired backdrop.
Dotted everywhere are little terracotta pots with various cacti and succulents. An eclectic vinyl collection — curated by Cosmos Records London — is also in attendance, and it isn't all about aesthetics; decks spin with anything from Fleetwood Mac to Queen, and all sorts of lovely sounds in between. In the centre of the little room is a great big untreated wooden table aimed for sharing; it's topped with more succulent plants, a mishmash of brightly-coloured candles, and handmade KANA clay plates. Diners can also sit at the bar with a full view of the kitchen, or at a handful of booths running the length of the taqueria.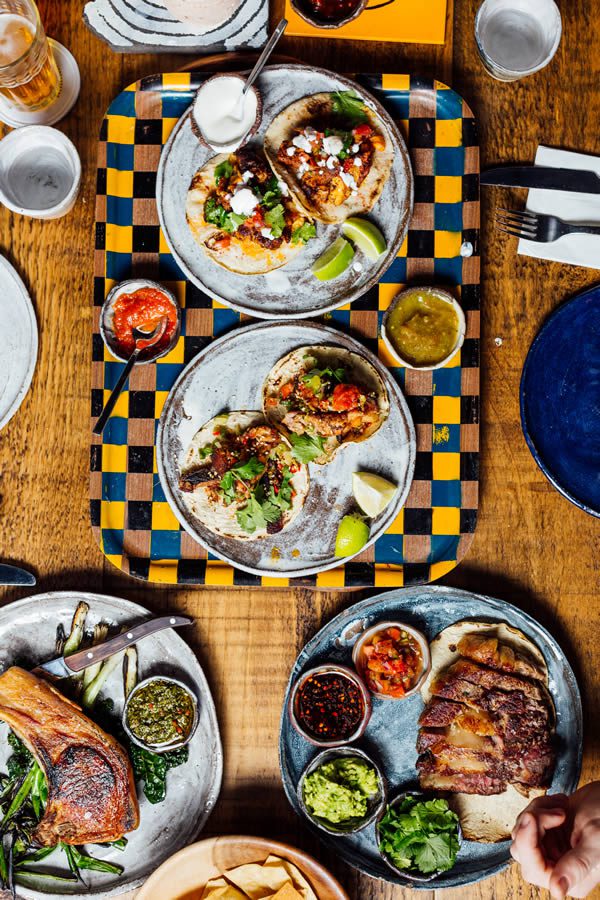 The menu remains resolutely rooted in street food, and focuses on regional Mexican and Pocho (Mexican-American) cuisine. Using the best of British produce, Dud and Whitney's offerings are highly seasonal, and likely to change frequently. I'd recommend starting with a Breddos Fizz cocktail which is a perfect blend of tequila, mescal, peach, citrus, egg white and soda. Delicately sweet it steadies you for the heat to come. Homemade corn chips arrive with two salsas, one as fiery as hell, the other just right; and you're more than thankful for that syrupy cocktail.
All the tacos and tostadas are generously loaded with a wide variety of ingredients. The Baja Fish with cabbage, lime mayo and pico de gallo is a particular favourite; it sure packs a punch, but the fish is well balanced in its crunchy coat under a fiery fresh salsa. The line-caught tuna tostada with tomatillo, Serrano chilli and peanuts is extremely bold — while the chilli pepper overpowered the delicate raw tuna, the peanuts added subtleties of flavour and texture. For a little respite from the heat, the Chanterelle Mushroom tostada with cavolo nero and black mole vinaigrette is a must, as is the very naughty molten Queso Fundido with homemade thick-cut crisps.
Because the menu changes often and is based around what is available, you never quite know what's in store. One constant however is the mezcal; a relative must in such an environment, one of the waiters or waitresses can pick you out something nice to cap your night off. You won't be sorry singing in the rain all the way home.
Breddos Tacos is as bold as it is bright. Exuberant in its creativity and energy, it's one of those places that you'll instantly fall for; fun, familiar and convivial … exactly what you want from a neighbourhood restaurant. The guys better hurry up and open a new site quickly, though, because this little taqueria is going to become a London favourite quicker than you can say 'stick that wall up your ass!'