197 Chiswick High Rd is on FIRE. Luckily, it's the emoji flame kinda fire — as the folk who'd help put out the real flames have moved on. A more apt classical element to describe the interiors at this new Chiswick neighbourhood bar would be ice — its crisp space is unflappably cool — but that doesn't fit with the heritage of its locale, so put that in your pipe and smoke it.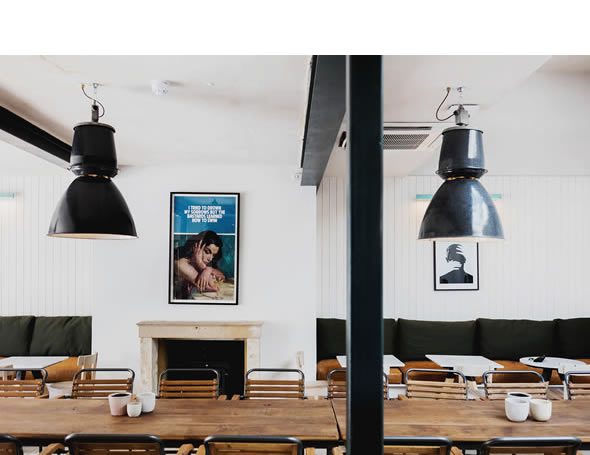 Formerly a home to a brigade of west London firefighters, No 197 Chiswick Fire Station opens its doors today as a fourth feather in the cap of Darwin & Wallace; the indie bar group founded in 2012 by Mel Marriott. Here Mel has worked alongside long-time collaborators Louise Davies of Box9 and Lionel Real de Azúa of Red Deer in the renovation of this old station; filling it up with the work of artisans and makers, and reviving its forgotten courtyard space.
Crafty cocktails and antipodean-influenced grub will be dished out to locals who will be propped up by pastel pink couches, school canteen chairs, chunky oak bar stools, and all manner more of eclectic furnishings. Marriott calls it 'more home than high-street'. She's clearly got a nicer pad than me. Wood panelling; terracotta tiles; occasional breeze blocks; vintage lighting; artful cacti … on paper its a hotchpot of bits and bobs too far; in practice its a schooling in insightful minimalism.