Don't listen to that dickhead Donald Trump, there are some good things happening at the Mexican border. When Thomasina Miers and Mark Selby from Wahaca toured the border states of the US, they found a culinary cross-pollination of ingredients and techniques; Mexican spices infusing the food to the north, and beefy American flavours influencing the dishes on the Mexican side of the road. The Wahaca tour also included an in-depth exploration of Mexico City, aka the Distrito Federal, and led to them launching last year's hit pop-up DF Mexico at the Old Truman Brewery.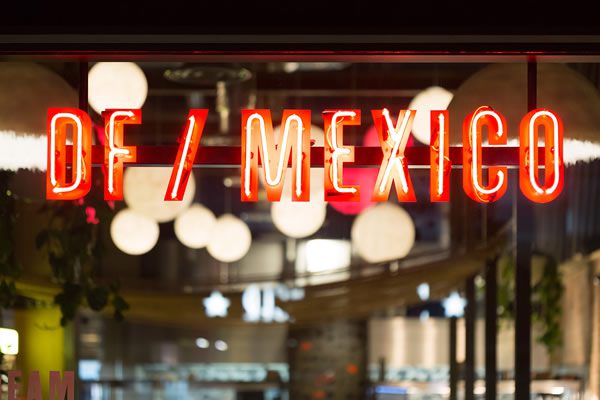 The once-temporary experiment has cemented a place in the hearts of London foodies and DF Tacos is now a permanent fixture following the opening of this Tottenham Court Road branch. Design studio Softroom has added the visual spice with their vibrant interior, marked by a liberal smattering of graphics, lightbox signage, bold colours and a fun geometric floor pattern.
The addition of 30 graphic prints by emerging Mexican artists injects an extra dose of youthful authenticity. DF Tacos' fusion menu includes Mexican-American steak tacos, carne con chilli crinkle cut fries, the NYC Torta (a Mexican sandwich served New York stylee) and lots and lots of frozen margaritas.