A diner, 'amusement park', and cannabis store make up the new Superette experience, the company——renowned for their playful, retro aesthetic and artful curation of products——choosing Canada's capital to house their second outpost.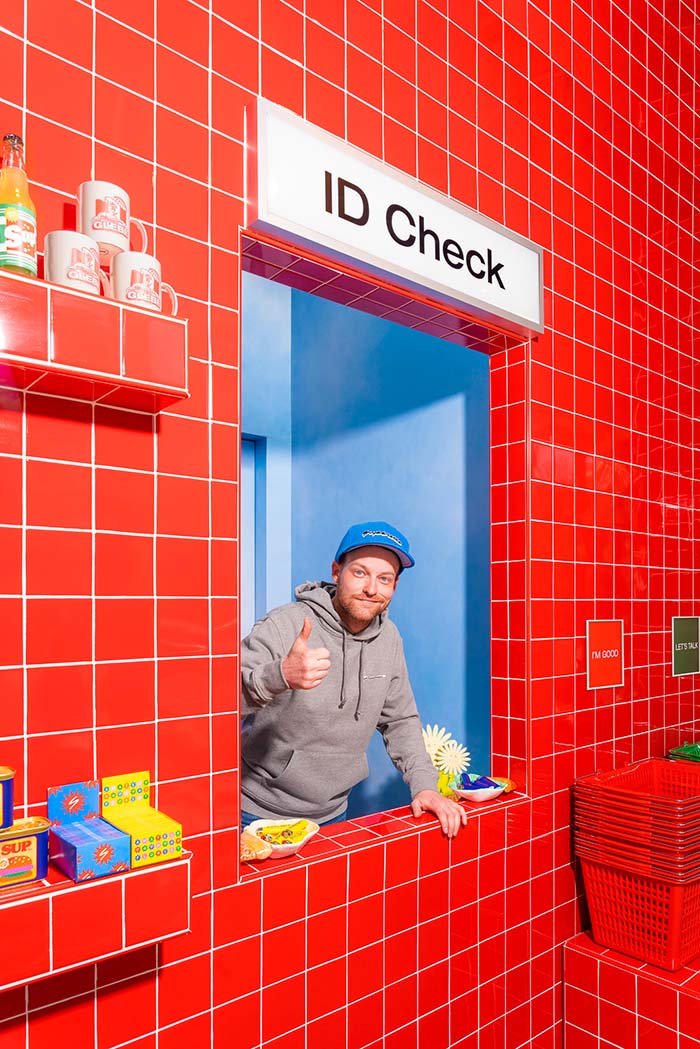 Located in a 1,900 square foot property in the Glebe neighbourhood, the latest concept pays homage to the nostalgia-drenched diner style of the original Wellington store, adding a touch of trippy surreality and an abundance of colour to create an all-round immersive experience.
Customers enter the store through a sort of classic diner-meets-candy shop, completing their ID check in an old custom photo booth. Formalities over, guests find themselves in a 'dream-like' tunnel space (think Willy Wonka's Chocolate Factory) where photoreal illustration seamlessly wraps the curves of the tunnel's ceiling with soft, glowing clouds, and fairground-style funhouse mirrors serve to further distort your reality as you move through the space.
Exiting the tunnel you reach the cannabis retail space which is classic Superette, featuring the brand's trademark white tile and red grout, and a curated selection of gender-neutral clothing, products and accessories from cult brands.
Boasting the world's largest cannabis menu with guests able to choose from a huge dineresque menu emblazoned on the wall, Superette fuses the fun-loving world of weed with fashion and culture, other design elements including a Superette Poutine Phone that goes through local street food restaurant Banditos and includes a secret menu item. And, is a nod to the neighbourhood, they've designed exclusive merchandise for the Ottawa store, including a vintage-feel tourist t-shirt that celebrates the area.
"This new store really shows the evolution of Superette as a brand and how we can continue to push the boundaries on our retail experience," comments Drummond Munro, chief brand officer and co-founder. "From vintage diner to house of mirrors, this customer journey will be unlike any other." Quirky and inspired, Superette Ottawa is a truly unforgettable experience, and a reference point for other brands from many sectors. A triumph of amusement and frivolity in a town often dubbed The City that Fun Forgot.