Reflecting the evolution of Richmond's blossoming Swan Street, new wine bar The Ugly Duckling taps in to Hans Christian Andersen's tale of transformation. There is no inner beauty struggling to be seen here, though, design studio Hecker Guthrie ensuring this mistaken little bird is a stunner from the off.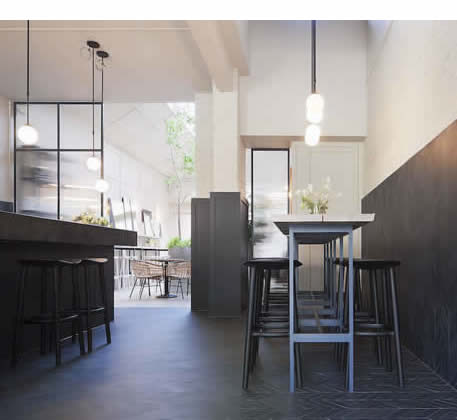 A sophisticated feel of home is the name of the game here, the concept blooming from its owners' love of entertaining; The Ugly Duckling billed as a 'natural extension of their private homes'. The owners in question are David Abela (Founder of 3 Degrees Marketing) and Andrew Ryan (Managing Director of Mitchelton Wines and Director of Melbourne Pub Group), who've worked tirelessly on hatching their beauty with Hecker Guthrie and general manager Daniel Vid; who himself has a solid reputation on the Melbourne F&B scene.
Serving up treats from a finely curated wine list, and accompanying them with antipasto style grub — that includes things like warm olives, charcuterie, cheese boards and chocolate — this fairytale protagonist occupies a space that was once home to Melbourne's first department store; the splendidly-named Balls Corner. Designer Hamish Guthrie calls it 'all that is quintessentially Melbourne: clean, yet theatrical design, with nods to the past and a touch of nature, designed to mimic the natural feel of a conservatory,' which neatly sums up a space that is light and airy; a sense of the outdoors is tangible.