There's room for over 800 patrons at this sprawling pub set over four floors in the heart of Melbourne's CBD, various rooms and spaces all vertically integrated throughout this ambitious venue to encourage urban exploration.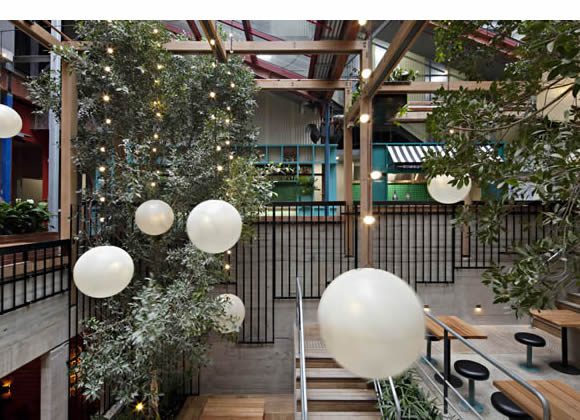 From the tree-filled atrium you know this place is going to deliver in the style stakes. Owned by Sand Hill Road (the people behind Bridge Hotel, Richmond Club Hotel, Terminus Hotel and Prahran Hotel) and designed by Technē Architecture + Interior Design, the vibrant watering hole — a first stop for the city's social elite during the 1980s and '90s under the name Rosati — is already bringing the punters in by the droves.
Stepping away from the 'traditional boozer', Garden State Hotel features different rooms and areas that support varied audiences and functions; Technē director Justin Northrop explaining that 'within the Melbourne CBD there is probably no other hospitality venue, based on the spirit of a pub, that offers a comparable variety of spaces and experiences under the one roof.'
With distinct dining spaces like The Garden Grill, Rose Garden, Balcony Dining Room, and a quick and easy self-serving kiosk, Garden State Hotel is a casual affair based on good old pub classics, with a contemporary twist in a startling oasis.