Turning onto a long gravel driveway, the bright white curves of an Elysian structure up ahead vies for attention with the imposing natural landscape it inhabits. Inspired by Psalm 36:7 — 'people take refuge in the shadow of your wings' — this is the Bosjes chapel in all of its sublime glory.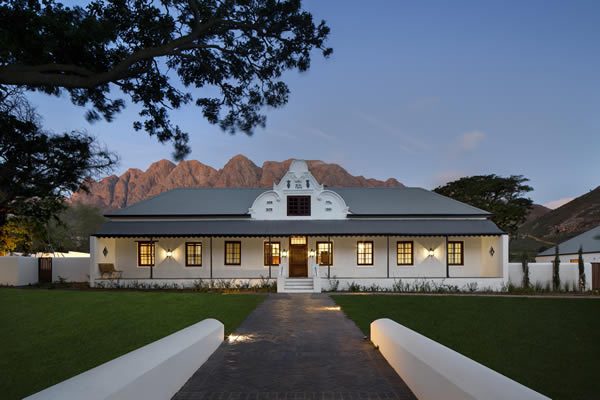 Hovering delicately, thanks to subtle glass walls, the chapel's 'wings' are a thing of lofty beauty. They announce in spiritual style that you've arrived. Destination Bosjes. Meaning 'small bushes' in Dutch, the farm — formerly Bosjesman's Valley Farm — produces wine grapes, olives and similar produce; all just an hour or so from Cape Town.
Surrounded by the Slanghoek and Waaihoek mountains, Bosjes is a long-time dream of its owners; who want to benefit the local community by increasing tourism to the area. Historical architecture rests alongside the contemporary here, impressive landscapes visible through plenty of open spaces; set to open March 2017, the farm will be open to both day visitors and overnight guests.
As well as the heavenly ode to a higher being, Bosjes features a charming guesthouse (updated by interior design Liam Mooney in muted shades of sand), an open-air tea garden, and the Bosjes Kombuis restaurant (designed, along with the chapel, by Steyn Studio), a space complete with high ceilings, glass walls, a wooden terrace, and those dramatic mountain views.
Hike into the mountains; stroll among the vineyards; indulge in the robust flavours of consultant chef Pete Goffe-Wood's rustic dishes; stay over in humble luxury … Bosjes is quite the Garden of Eden.